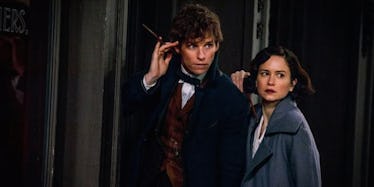 The 'Fantastic Beasts' Sequel Might Take Us Back To Hogwarts And Fans Are Freaking Out
Warner Bros.
GUYS. Try not to freak out, but we finally have new details about the Fantastic Beasts and Where to Find Them sequel coming out November 16, 2018.
I know, I know, November 2018 is literally over a year away. I'm crying too. But filming for the movie just began today, and Warner Bros. has given us more details about the sequel's plot and which characters — both old and new — we can expect to see.
ACCIO TEARS.
First thing's first, let's go over what we already know.
1. There will be five total movies in the Fantasic Beasts series.
2. Young Albus Dumbledore will be a main character in the sequel, played by Jude Law (!!!).
3. With this new, young Dumbledore, we're going to learn a lot more about his past (even more !!!).
But now, thanks to Warner Bros. and Pottermore, we know some more about what we are going to have gracing our unworthy eyes come November 2018.
(Warning: Fantastic Beasts and Where to Find Them spoilers ahead! But if you haven't seen it yet, I don't pity you.)
In four blog posts, Pottermore detailed the new plot points and I can't handle any of them:
1. Newt Scamander will team up with Dumbledore to hunt down Grindelwald.
Yup, Jude Law and Eddie Redmayne will be in a lot of scenes together to fight against the Voldemort of the Fantastic Beasts franchise, Gellert Grindelwald, and we deserve none of it.
The Pottermore post says,
The close of Fantastic Beasts and Where to Find Them saw Newt Scamander (Eddie Redmayne) help unmask and apprehend Gellert Grindelwald (Johnny Depp), who had disguised himself as MACUSA Auror Percival Graves. The latest from the studio is that, in the new film, Grindelwald will 'make a dramatic escape' from MACUSA custody, forcing Albus Dumbledore to join the wizarding world's efforts to stop him. The villainous Grindelwald has been busy 'gathering more followers to his cause – elevating wizards above all non-magical beings'. Dumbledore will look to his former student Newt for help.
I am going to throw up I am so f*cking excited.
2. Tina, Queenie, Jacob, and Credence are all coming back for the sequel.
Credence (played by Ezra Miller) was the Obscurus everyone was hunting down in the first film, and I was pretty sure he died, seeing as he effectively, like, blew up. But apparently he will be returning to the sequel, though it's not clear in what capacity.
It could be a flashback for all we know, but the Pottermore post said,
The troubled character was revealed to be an Obscurial in Fantastic Beasts and Where to Find Them, and was a figure of fascination for Dark wizard Grindelwald. An Obscurus, or Obscurial, is a dangerous, magical force that occurs in repressed wizards who withhold their magic. The climax of Fantastic Beasts and Where to Find Them saw Credence seemingly destroyed, although a 'tendril of black matter' was seen by Newt escaping the scene.
INTERESTING. So maybe a bit of Credence did survive. KIND OF LIKE A HORCRUX, AM I WRONG? MAKES YOU THINK.
Anyway, it's also been confirmed that Tina, her sister Queenie, and the lovable muggle (ugh, sorry, No-Maj) Jacob will all be in the sequel.
Jacob's memory of magic and all of his adventures with Newt, Tina, and Queenie were heartbreakingly wiped clean at the end of the first movie, but there was a scene in the credits that hinted he had some memory of the wizarding world left. So it will be interesting to see how his character plays out!
3. Leta Lestrange will officially make her entrance, along with a couple other new characters, and there will be some of kind magical circus... ?
Zoë Kravitz appeared in the first Fantastic Beasts for literally three seconds via a photo Newt had of her in his office located inside his briefcase (if you've never seen any of the Harry Potter movies, I literally have no idea how to explain this to you).
Her character is Leta Lestrange, Newt's former love interest whom we're assuming turned evil since, you know, her last name is Lestrange and everything.
The post said,
Standouts include a bounty hunter called Grimmson, played by Icelandic actor Ingvar Sigurdsson; William Nadylam as a wizard called Yusuf Kama; Ólafur Darri Ólafsson as Skender, the owner of a wizarding circus and Claudia Kim as one of the circus's 'featured attractions'. Warner Bros. also confirmed that Callum Turner will appear as Newt's older brother, Theseus Scamander, while Zoë Kravitz returns as Leta Lestrange.
Tina and Newt FOR SURE have feelings for each other by the end of the first movie, so it'll be interesting to see Newt's former love thrown into the middle of this mix.
4. The sequel will take place in New York City, London, and Paris.
Pottermore revealed,
The film is set in 1927, months after Newt helped in the capture of Dark wizard Gellert Grindelwald. At the end of the first film, Newt leaves New York on a boat set for Europe. As principle photography began at Leavesden today, Warner Bros. revealed that New York, London and Paris will feature in the film. Warner Bros. have said that the upcoming Fantastic Beasts film would contain many nods to the world of Harry Potter.
OK, SO THIS IS THE ONE THAT HAS ME THE MOST EXCITED.
The Fantastic Beasts sequel is going to take place in not one, not two, but THREE cities: NYC, London, and Paris. That means we're going to be at least partially introduced to an entirely new wizarding world in France.
BUT THINK ABOUT THIS: In the sequel, Dumbledore is said to still be a Transfiguration professor at Hogwarts. Newt has obviously already been kicked out of Hogwarts, but if Dumbledore is still there, and if Warner Bros. isn't kidding when they said there will be "many nods to the world of Harry Potter," it is completely, totally possible that we will see Dumbledore at Hogwarts itself.
YOUNG DUMBLEDORE. TEACHING TRANSFIGURATION. AT YOUNG HOGWARTS. NONE OF THIS IS GOOD FOR MY BLOOD PRESSURE.
After all of these new details, fans are freaking the hell out and can't wait for November 2018.
AYO, HERMIONE. WHERE THE TIME TURNERS AT? CAN I GET ONE? I literally CANNOT WAIT for this sequel.
But alas, wait we must. The good news here though is that a new Harry Potter story will be taking over New York City while we wait for the next Fantastic Beasts, as Harry Potter and the Cursed Child is set to make its Broadway debut on April 22, 2018!
That's hella far away, but it's damn well closer than November 2018.