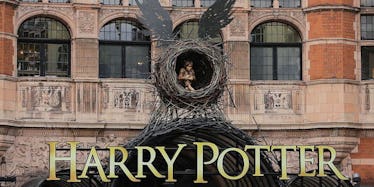 'Harry Potter And The Cursed Child' Finally Has Its NYC Broadway Debut Date
Getty Images
WANDS AT THE READY.
Get ready, Potterheads, "Harry Potter And The Cursed Child" just locked in its broadway debut for April 22, 2018.
It's literally an entire year away and I'm sobbing because of the wait, but if the reviews from its run in London are any indication, this play is going to be the most magical — and also terrifying... have you read the play?! — thing Broadway has ever seen.
"Harry Potter And The Cursed Child" follows Harry Potter and Ginny Potter's youngest son, Albus Severus Potter, during his time at Hogwarts.
In a shocking plot twist in the beginning, Albus is sorted into Slytherin House instead of Gryffindor like his older brother, James and cousin Rose Weasley.
Albus's only friend is Scorpius Malfoy. Yup, Potter and Malfoy are best friends in this play. Basically, what happens is they get their hands on a time turner necklace and all hell breaks loose.
Albus wants to go back in time to the moment he was sorted into Slytherin so he can choose Gryffindor instead. He believes going back in time and changing his life will make him hate being the son of Harry Potter — and as a result, hate himself and his father — less.
But he learns the hard way that time turners are dangerous things, which is precisely why the Minister of Magic, Hermione Granger (!!!!!!!!!!), destroyed all but one from existence.
If people can go back in time, they can change the results of the Battle of Hogwarts and Voldemort could make a return. So, it was probably an objectively great idea to destroy all time turners.
In the play, Hermione is Minister of Magic and is married to Ron, and Harry is an auror and is married to Ginny.
THE GANG IS BACK TOGETHER FOR ANOTHER ADVENTURE, FAM.
"Harry Potter and the Cursed Child" is now the most awarded play in the history of the Olivier Awards, which is essentially the Tonys/Oscars of the UK. According to the play's website,
Based on an original new story by JK Rowling, Jack Thorne and John Tiffany, Harry Potter and the Cursed Child, a new play by Jack Thorne, received its world premiere in June 2016 at the Palace Theatre in London, where it plays to sold-out houses. The critically acclaimed play recently became the most awarded production in the history of the Olivier Awards, winning a record-breaking nine awards including Best New Play and Best Director. The production has won 22 major theatre awards in the UK since opening last July in London, including the Evening Standard Best Play Award.
"Harry Potter and the Cursed Child" will be playing at the Lyric Theatre in New York City.
SCARED, POTTERHEADS? YOU WISH.
Citations: "Harry Potter And The Cursed Child" Is Officially Coming To Broadway In 2018 (BuzzFeed), Harry Potter and the Cursed Child Sets Broadway Opening Night (TheaterMania)