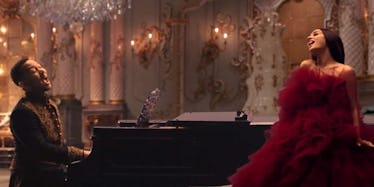 Ariana Grande And John Legend Finally Drop Magical 'Beauty And The Beast' Video
YouTube
Everyone's week just got a whole lot more magical, thanks to Ariana Grande and John Legend finally dropping their "Beauty and the Beast" music video.
The video premiered worldwide on Sunday on Freeform during its "Harry Potter" weekend, and also on YouTube for those of us who prefer to watch our "Harry Potter" DVDs.
The full audio version of Ariana Grande and John Legend's take on this Disney classic was released last month, so we already know how great they sound.
But this new video brings a different kind of magic to the table.
Let's take a closer look at this video.
It starts off with Ariana in the Beast's castle, gazing into the magic mirror.
Then she heads down to the ballroom, wearing an elegant red feather gown.
The dancers around her form a rose, just like the one the Enchantress cursed.
Meanwhile, John Legend is there just being John Legend, aka beautiful and charming.
Mrs. Potts (Emma Thompson), who sings the theatrical version of the song, looks on at one point.
And we get to see some footage from the upcoming film of Emma Watson and the Beast sharing a dance.
Finally, the video ends with Ariana in the castle's window.
The song was first made famous in 1991, from the pop cover by Celine Dion and Peabo Bryson.  That original version of "Beauty and the Beast's" titular song earned both an Oscar and a Grammy.
Celine Dion has a place in this new film, too — she performs a brand new original song, "How Does A Moment Last Forever."
A producer on the 2017 film, Ron Fair, acknowledged this wasn't an easy standard to live up to, but said the filmmakers tried to give Ariana and John's version its own unique feel.
He said in a statement,
Stepping into the shoes of an Oscar- and Grammy Award-winning classic is not small potatoes. But with today's two greatest singers — John Legend and Ariana Grande — we are bringing the song back with a new school/old school fresh treatment that shows the soulfulness and power of what a great melody and lyric can inspire.
I don't want to speak too soon, but I think John Legend might be getting that Oscar next year, for real this time.
Citations: Ariana Grande and John Legend's "Beauty and the Beast" Music Video Features Plenty of Disney Magic (E! Online)