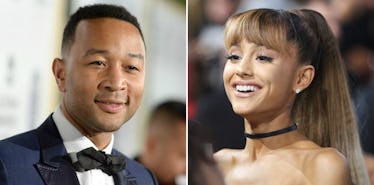 Full 'Beauty And The Beast' Song By Ariana Grande, John Legend Is Finally Here
REX/Shutterstock
On Monday, the final trailer for "Beauty and the Beast" was released, and in it, we heard a snippet of Ariana Grande and John Legend singing their hearts out to the movie's theme song.
Thursday, the full version of Ariana Grande and John Legend's "Beauty and the Beast" song premiered on Radio Disney.
As you can hear in the video below, the track will definitely make you feel some type of way.
I know! I've already listened to this jam eight times today and it's not even noon.
Speaking on this version of "Beauty and the Beast," producer Ron Fair reportedly said,
Stepping into the shoes of an Oscar- and Grammy Award-winning classic is not small potatoes. But with today's two greatest singers — John Legend and Ariana Grande — we are bringing the song back with a new school/old school fresh treatment that shows the soulfulness and power of what a great melody and lyric can inspire.
I mean, after listening to Grande and Legend's rendition of a timeless classic, it's pretty hard to argue with Fair's statement.
If you enjoyed Grande and Legend's track, I have some more good news. It appears a music video is in the works for this song, and Dave Meyers is going to direct it!
I think it's safe to say there hasn't been this much anticipation and buzz surrounding a film since "Frozen" came out.
And in case you're wondering why we're all patiently waiting to go see "Beauty and the Beast" instead of "Cinderella," well, Emma Watson, who plays Belle, opened up about that.
She said,
There's this kind of outsider quality that Belle had, and the fact she had this really empowering defiance of what was expected of her. In a strange way, she challenges the status quo of the place she lives in, and I found that really inspiring. She manages to keep her integrity and have a completely independent point of view. She's not easily swayed by other people's perspective -- not swayed by fear-mongering or scapegoating.
I. Can't. Wait.
Citations: Listen to Ariana Grande and John Legend Sing "Beauty and the Beast" (E! News), Ariana Grande, John Legend - Beauty and the Beast (From "Beauty and the Beast"/Audio Only) (YouTube)