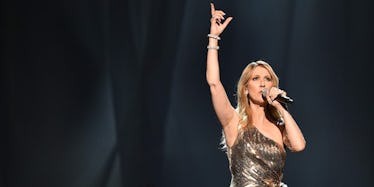 There's A New 'Beauty And The Beast' Song Coming From Legend Céline Dion
REX/Shutterstock
Disney is seriously pulling out all the stops for the live-action "Beauty and the Beast" film.
I mean, if Emma Watson as Belle didn't get you on board, then surely Céline Dion singing a brand-new original song in the film will.
On Thursday, the iconic 48-year-old singer announced via Instagram she will once again be lending her talent to this beloved Disney classic.
In the caption, Céline wrote,
I am thrilled to announce that I'll be performing an all-new original song, 'How Does A Moment Last Forever,' for Disney's live-action 'Beauty and the Beast.' Being a part of the original film was such a magical experience in my life, and I'm truly honored to be a part of this film again.
Céline's duet with Peabo Bryson of the titular song in the 1991 animated film soundtrack was something of a career breakthrough for her.
It was her first top 10 hit in the UK and second in the US, gaining the French-Canadian singer international fame.
In the 2017 live-action film, this famous duet will be sung by Ariana Grande and John Legend.
Last week, Ariana teased fans with a pic from the recording studio and tagged John Legend in the photo.
It might not be QUITE as iconic as Queen Céline's version, but I'm still excited.
We've also gotten a brief look at one of Emma Watson's songs in the film, thanks to a leak from a Belle doll that Toys "R" Us put on the shelf too early.
(Spoilers if you click on this video, I guess. If spoilers for songs are a thing.)
And, on top that, we officially got to hear Emma's singing in the latest TV spot for the film.
We have 30 seconds of the new version of "Something There," and honestly Emma sounds amazing.
So are you excited for this movie yet or what?
The wait will finally be over when "Beauty and the Beast" hits theaters in two months, on March 17.
Citations: Céline Dion Announces New Song For The Beauty & The Beast Soundtrack (Refinery29)