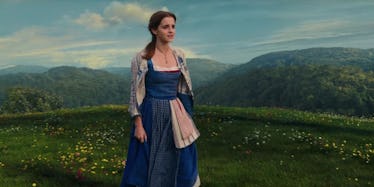 New 'Beauty And The Beast' Trailer Finally Shows Emma Watson Sing As Belle
YouTube
The Golden Globes just previewed a new trailer for "Beauty and the Beast," and fans are totally losing it.
Halfway through the 74th annual awards show, an extended clip of Disney's upcoming film played during a commercial break.
In the new trailer, we finally get to watch Emma Watson sing as Belle for the first time. DREAMS REALLY DO COME TRUE, YOU GUYS.
The movie hits theaters on March 17, so we still have two months left until we get to watch the actress kill it on the big screen. However, this 30-second clip is enough to keep me going until then.
Emma Watson slayssssss. I could listen to that voice all day e'ry day. Music to mah ears.
A Hasbro Belle doll apparently had an audio clip of Watson singing built into it, so a fan found the doll and shared it with the world.
BLESS YOU, RANDOM SHOPPER.
Shortly after, a more clear-cut clip of Emma Watson singing was uploaded to social media and YouTube.
I've played it like, 3,943,939 times so far, so yeah, you could say I'm pretty damn excited for this film.
CAN IT BE MARCH 17 ALREADY? FEBRUARY, CAN YOU FUCK OFF?
When Emma Watson was first cast as Belle, many people had just one question: Can the actress even sing?!
Well, now we have the answer. Yes, yes she can.
The movie also stars Dan Stevens as the Beast, Luke Evans as Gaston and Emma Thompson as Mrs. Potts, so it has a pretty stacked cast.
On top of that, a new "Beauty and the Beast" poster was released and it made the movie look even more epic.
Thanks to Emma Watson, "Beauty and the Beast" may become my new favorite Disney movie.
I personally always had a crush on Captain Li Shang from "Mulan," but I guess Dan Stevens could take his place.