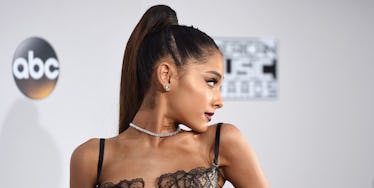 Ariana Grande's Instagram Hints She's Making Music For 'Beauty And The Beast'
REX/Shutterstock
Oooh, Ariana Grande, you're so sneaky.
While it isn't confirmed that Grande is taking part in the highly anticipated "Beauty and the Beast" soundtrack, this little hint she posted on Instagram has us convinced she's about to be the next Celine Dion.
The picture itself looks innocent enough -- just Grande in the recording booth rocking some headphones -- but look who she tagged.
John Legend and the film's official Instagram account were tagged at the bottom of the picture.
Based on Disney history, they use a huge voice for their movies' title songs.
Christina Aguilera sang "Reflections" for "Mulan," Demi Lovato sang "Let It Go" for "Frozen," and Alessia Cara sang "How Far I'll Go" for "Moana."
It's a tale as old as time.
If history repeats itself, Legend and Grande will be singing the iconic theme song of the movie.
While Angela Lansbury sang "Beauty and the Beast" in the movie as Mrs. Potts, it was Celine Dione and Peabo Bryson, two pop vocalists, who recorded the end-credit version of the song in the original animated movie in 1991.
Picturing Grande and Legend taking over those roles is just a natural conclusion.
If you're saying to yourself, "Uh, Grande sings about leaving a guy's place walking side to side," let me remind you Dion sang about driving all night to get to a guy's house to literally wake him up with sex in "I Drove All Night."
It is expected Emma Thompson, who will voice Mrs. Potts in the live-action remake, will also sing the title song.
After hearing Emma Watson, our new Belle, finally show off her singing skills in the latest trailer, fans are more than excited to finally see the movie.
Thompson and Watson also both appeared in "Harry Potter" together so there is bound to be a lot of magic.
"Beauty and the Beast" hits theaters on March 17.
Citations: Ariana Grande, John Legend Recording 'Beauty and the Beast' Music (Teen Vogue)