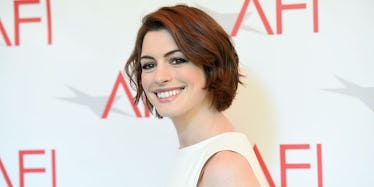 Anne Hathaway Might Replace Amy Schumer In Live-Action 'Barbie' Movie
Getty
Anne Hathaway's life is about to get a lot more plastic, and it's fantastic. Hathaway is in talks to star in the live-action Barbie movie, which has been in the works for quite a while now, according to the Hollywood Reporter. The Oscar winner is replacing Amy Schumer in the role.
Last year, Amy Schumer was announced to helm the movie, which was described as a feminist inversion of the the Barbie franchise, about a woman who doesn't fit into a cookie-cutter land of perfect Barbie dolls and decides to journey to the real world. It drew comparisons to other magical, fish-out-of-water films like Enchanted and Big, and of course its Disney equivalent Life-Size.
With Schumer as its lead, it also became immediately evident the movie would likely lean heavily on some R-rated humor, but unfortunately, the comedian had to move out of the Barbie Dream House in March due to scheduling conflicts.
Now that Anne Hathaway is circling the iconic role, it sounds like the entire tone of the movie may shift as well, away from Schumer's brassy humor and towards Hathaway's more emotive sensibilities. The movie is also talking to Alethea Jones (director of upcoming R-rated comedy Fun Mom Dinner) to direct the flick, reportedy at Hathaway's request.
But nothing is a done deal yet. Apparently, Hathaway's schedule could still be a problem for Sony, which is reportedly unwilling to budge on its summer 2018 release date. Hathaway is currently filming a handful of other projects, so we'll have to wait and see if she and Sony can make the scheduling work.
Anne Hathaway is currently filming a thriller with Matthew McConaughey called Serenity and co-starring with Rebel Wilson on a Dirty Rotten Scoundrels remake called Nasty Women. She'll also appear in the star-studded Ocean's Eight, and has been announced to topline two dramas: The Lifeboat and Live Fast Die Hot.
The Barbie movie is reportedly locked in to hit theaters on June 29, 2018.