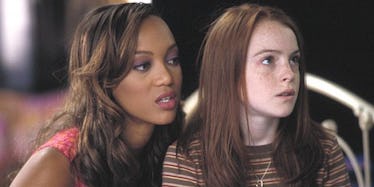 Lindsay Lohan May Return For 'Life Size 2' And Our Childhood Dreams Are Coming True
Disney
When the sequel to Disney's beloved doll-come-to-life movie Life Size was finally confirmed last month after a long period of buildup, we all had the same question: Will Lindsay Lohan be in it!?
Back in 2000, Lindsay starred in the original movie as tomboy Casey Stuart before becoming the queen of teen movies in the mid-2000s.
But recent years have been much different for LiLo — she's moved to London, taken up an interest in Islam and foreign politics, and hasn't acted in a movie in over four years.
But it sounds like Lindsay will be making her big acting return in Life Size 2!
Lindsay's Life Size co-star Tyra Banks confirmed on The Talk that she's been talking with Lindsay about getting the sequel, and they both really want her to be in it:
I am having conversations with Ms. Lohan. Yes, and I want her to come back and I think that she does too. Actually, I know she does. So I really hope that she can be in it.
Tyra is already confirmed to reprise her role of Eve, the doll brought to life, in the new movie, which will premiere on Freeform in December 2018. The movie will reportedly be Christmas-themed.
If Lindsay Lohan does get involved in the new sequel, it will likely not be in a starring role. Tyra teased the new movie will be about Eve helping another young woman, and Tyra already has an actress in mind for who should be the new star: Zendaya.
The model and business mogul told Entertainment Tonight  she would love to see Zendaya taking over the lead role in Life Size 2.
I would love Zendaya. I think Zendaya would be really interesting.
In the original movie, Lindsay's character accidentally brings her Eve doll to life when attempting to use a magic spell to bring her mother back to life. It's unclear if the new movie will follow a similar plot or opt for a new storyline for the new lead.
Life Size 2 will premiere on Freeform in December 2018.
Citations: Tyra Banks Says She's 'Having Conversations' With Lindsay Lohan for 'Life-Size 2' Cameo (Entertainment Tonight)