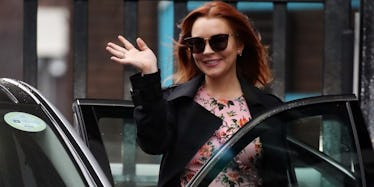 Lindsay Lohan Wore A Headscarf And Claims She Was 'Racially Profiled'
REX/Shutterstock
Lindsay Lohan experienced Islamophobia firsthand (maybe) at Heathrow Airport recently (possibly) and it's absolutely horrifying (potentially).
I'm not saying discrimination like this doesn't exist. It exists, and it's absolutely disgusting. Millions and millions of people across the world have to live their lives in fear because of Islamophobia, racism and everything else that leads to discrimination.
What I am calling BS on is the 30-year-old actress — who was robbed of an Oscar for "Herbie: Fully Loaded" — got a bone-shaking dose of reality when she decided to wear a headscarf while walking around Heathrow Airport.
Lindsay recounted her "I'm a white girl who went to Cambodia for a semester abroad in college, and now I GET IT" moment on "Good Morning Britain" this morning.
Thoughts and prayers are with you, Linz.
According to Lohan,
When I was flying to New York recently, I was wearing a headscarf and I got stopped at the airport and racially profiled for the first time in my life.
She went on to say,
She opened my passport and saw Lindsay Lohan and started immediately apologizing, but then said 'Please, take off your headscarf.' And I did, it was OK. What scared me was in that moment, how would another woman who doesn't feel comfortable taking off her headscarf feel?
There you have it, anybody who covers their hair for religious reasons! Lindsay Lohan knows your plight! LINDSAY LOHAN IS YOU!
Why do I feel like I've seen this before? Where have I exp --
OH YEAH, THE EARLY 2000s WAS FULL OF WHITE GIRL SHIT LIKE THIS.
Nancy O'Dell saying "We asked Real Housewife of New Jersey Melissa Gorga to put on a fat suit and walk a mile in their shoes in this special report" should be on every Duke sorority house flag.
Bad job, Lindsay. Bad job.
Citations: Lindsay Lohan Says She Was "Racially Profiled" While Wearing Headscarf (Refinery 29)