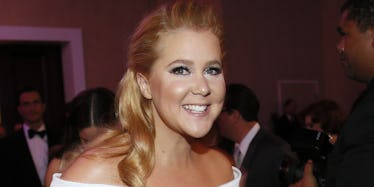 Amy Schumer Reveals Why She Will No Longer Star In Live-Action Barbie Movie
REUTERS
In December, Amy Schumer sparked mixed reactions when she announced she'd be taking on the role of Barbie in a live-action film about the popular Mattel toy.
Of course, there were tons of haters who couldn't handle the fact that the 35-year-old star was tapped to take on the part.
Others vowed to be patient and wait for what Schumer had to offer on the silver screen before passing judgment. Unfortunately for them, Amy Schumer will no longer star in the Barbie film.
According to Variety, the "Trainwreck" actress and comedian has "parted ways" with the Barbie movie due to her busy schedule.
Schumer's statement to Variety reads,
Sadly, I'm no longer able to commit to Barbie due to scheduling conflicts. The film has so much promise, and Sony and Mattel have been great partners. I'm bummed, but look forward to seeing Barbie on the big screen.
Hey, these kinds of things happen when you're in demand!
Plus, she's not lying. She's got a lot lined up this year. The report states Amy Schumer will be working a promotional tour this summer for her comedy movie with Goldie Hawn titled "Snatched."
She'll also star in the upcoming Rebecca Miller-directed comedy flick "She Came to Me" alongside Steve Carell.
Deadline states the film is "described as a comedic drama set in the world of contemporary opera and tug boats that cuts into the layer cake of American society with wit and heart."
In addition to both of those gigs, Schumer will also star in "Thank You for Your Service," a film about PTSD and how it affects "servicemen and women returning home from war." The film is due out in October of this year.
As for the Barbie movie, Sony and Mattel are still aiming for a release date of June 29, 2018.
Sony offered a statement on Schumer's departure from the film, saying,
We respect and support Amy's decision. We look forward to bringing Barbie to the world and sharing updates on casting and filmmakers soon.
The top priority on Sony's list now that Schumer has exited production is finding a director. Variety reports Schumer had helped "polish" the current script.
Now that she's no longer starring in the film, however, it is uncertain whether or not Sony will move forward with her initial creative direction.
Citations: Amy Schumer Drops Out of 'Barbie' Movie (EXCLUSIVE) (Variety)