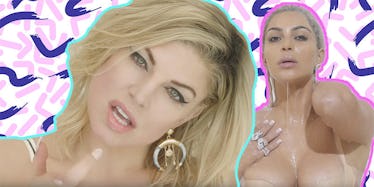 Fergie Just Revealed Her Theory About The Taylor Swift-Kimye Feud
REX/Shutterstock
Fergie is a little suspicious all that Taylor Swift vs. Kim Kardashian shiz is fictitious.
On Thursday, the 41-year-old singer stopped by the Australian radio show, "Kyle and Jackie O," and offered up her opinion on the whole Kim K posting Snapchats of Taylor Swift approving Kanye West's lyrics thing.
Fergie's take on it all? Probably just a publicity stunt.
According to a tweet from the radio station, Fergie has her suspicions this whole feud was planned.
She said,
Knowing them it's probably a big master plan, they'll probably all come together at the MTV awards or something.
She's not the first to suggest this drama was pre-planned, and there is some evidence to support that.
But if it's NOT a hoax, then Fergie is totally Team Kim.
She said,
Kim's so cool, you've gotta respect her sticking up for her husband.
If you're like, "Wait, what does Fergie know about Kim and Kanye?" Well, the two did just work together on Fergie's music video for "M.I.L.F," alongside Chrissy Teigen and Ciara.
The MILFs have to stick together!
Citations: Fergie Hints That The Kim Vs. Taylor Feud Is A Publicity Stunt (Refinery29)