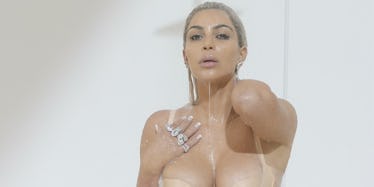 Kim Kardashian Embraces Her Inner MILF In Fergie's Steamy New Video
YouTube
It's no secret Kim Kardashian knows she's hot stuff. Further proving my point is Fergie's steamy new music video for her song titled "M.I.L.F. $" starring everyone's favorite celebrity mothers, Chrissy Teigen and Kim K.
Let's just say Kanye isn't the only one pushing the envelope these days!
The music video for Fergie's first single off her second solo album Double Dutchess album begins with a milkman cruising around a vibrant, MILF-filled neighborhood appropriately called "Milfville" before locking eyes with Chrissy Teigen and Fergie.
The 41-year-old pop singer then confronts the milkman, singing,
Heard you in the mood for a little milkshake, welcome to the dairy dutchess love factory.
At that point, I knew we were in for a treat -- and boy, was I right.
At around the 1:10 mark of this glorious milk-drenched masterpiece, Kim Kardashian pops up on the screen in nothing but a white silk robe as she moves to the beat of her new theme song standing alongside Fergie-Ferg and Chrissy Teigen.
Then Chrissy Teigen did this...
Take that, Snapchat haters!
In addition to the inseparable Chrissy/Kim duo, supermodel Alessandra Ambrosio and the stunning Ciara even made appearances in this ode to life as sought-after Hollywood moms.
Check out the milky masterpiece of a music video above!
Citations: Watch Kim Kardashian Take a Milk Shower in Fergie's 'M.I.L.F.'-Centric Music Video (ET Online)