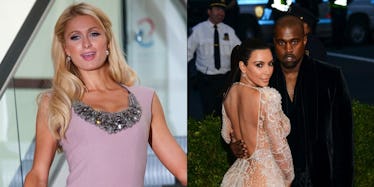 Paris Hilton's Response To Kanye West's 'Famous' Video Is Hilarious
Shutterstock
From Taylor Swift to Lena Dunham, just about every celebrity under the sun has shared their thoughts on Kanye West's controversial music video for "Famous," the first single off of The Life of Pablo album.
The latest celebrity response is from Paris Hilton and, quite frankly, it might just be the best response yet. If you know anything about Kim Kardashian, you know Paris Hilton kind of started the whole "famous for being famous" thing a long time before Kim K became this country's obsession.
Paris and Kim have known each other since they were little girls. As a matter of fact, long before "The Simple Life" aired on FOX and E!, Kim was actually Hilton's personal assistant. Since then, the two have simply "drifted apart," according to Kim.
But whether you want to admit it or not, Paris Hilton actually played a huge role in Kim Kardashian's success -- and she knows it.
In a recent Instagram post by a Paris Hilton fan, a hilarious meme is shown that reads,
I made his bitch famous.
Here's the meme. Epic.
Sure, it's a great meme but at the same time, Paris Hilton didn't necessarily make it herself... Instead, she responded in the most low-key way possible -- by "liking" the post on Instagram. Ouch!
Check out this epic video of Paris Hilton explaining her involvement in Kim Kardashian's "meteoric rise" to fame and success around the 2:00 mark.
She does have a valid point...
Citations: Paris Hilton Reminds Kanye West Who Made Kim Kardashian Famous (Cosmopolitan)