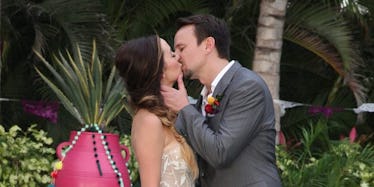 Carly & Evan Finally Got Married On 'Bachelor In Paradise' And It Was Beautiful
ABC/Paul Hebert
Bachelor in Paradise is back, filling the non-existent void left by The Bachelorette finale last week. As you probably already know, Bachelor in Paradise Season 4 was already full of drama before the season even began. Monday night's episode only seemed to make things worse. But in the second half of the Bachelor in Paradise Season 4 premiere, which aired Tuesday, we got a bit of good news: Evan Bass and Carly Waddell's wedding! These two former contestants got together in Season 3, and on Tuesday we got an inside look at Evan and Carly's wedding on Bachelor in Paradise.
Yep, former Bachelor contestant Carly Waddell and former Bachelorette contestant Evan Bass got a second chance at love in paradise last year — and they found it in each other. At the end of the Bachelor in Paradise Season 3, Evan popped the question, and Carly said yes! And unlike most Bachelor Nation engagements, the two were married in no time. Evan and Carly had their wedding this June in Vidanta Nuevo Vallarta resort near Puerto Vallarta, Mexico. Conveniently, this happened to be right where Bachelor in Paradise Season 4 was filming — but less conveniently, it happened when production was briefly suspended.
Still, the wedding was a success — there was even a traditional Mexican shaman! What's a Bachelor Nation wedding without a little cultural appropriation, right? Said Carly of the shaman: "I personally had no idea what the shaman did, but I thought it was awesome." Yikes!
The ceremony was attended by Evan and Carly's families and friends, as well as numerous Bachelor Nation alums like Nick Viall, Jade Roper, and Tanner Tolbert. Chris Harrison officiated the wedding, because of course he did.
And in addition to marriage, Evan and Carly have another big life even on the way: Carly is pregnant! That was fast! The couple announced the news in an exclusive interview with People. Carly also revealed her due date in a post on Instagram, where she wrote,
SECRET IS OUT GUYS!!!! Evan and I are SO EXCITED to announce we are HAVING A BABY!!!! What a beautiful, wonderful, wild year it has been and the adventure continues Feb 2018! (also Evans face here is hilarious and wonderful)
So, if the baby is due in February, does that mean we should expect a Bachelor episode live from Carly's delivery room? I wouldn't put it past ABC.
Congratulations to the happy couple! Now let's just hope Dean and Kristina will follow this couple's lead.