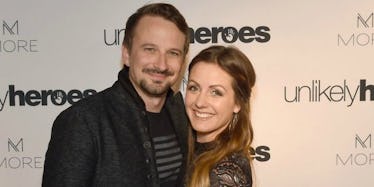 Carly & Evan's Wedding On 'Bachelor In Paradise' Is Sooner Than You Think
Rick Diamond/Getty Images
When will the first true love match to come out of this season of Bachelor in Paradise get married? The wedding of former Bachelor in Paradise contestants Carly and Evan is coming to your TV screens much sooner than you think! In one of the episodes coming up really soon, all of Bachelor Nation will get to witness the wedding of Bachelor in Paradise Season 3 supercouple Evan Bass and Carly Waddell.
As we found out a couple months ago, Carly and Evan tied the knot in paradise when production on Season 4 started up in mid-June. And of course, who better to serve as the officiant than the man who brought them together himself, Chris Harrison? Since we are pretty aware of the production timeline thanks to that unfortunate incident between DeMario and Corinne, we can nail down pretty closely when Carly and Evan's wedding will pop up in the season.
The show halted production to investigate the alleged scandal on June 11, and according to an adorable wedding Instagram post from Carly, we know their wedding date was July 17. The premiere episode showcased the whole DeMario-Corinne scandal, and since the wedding took place shortly after that, it's very likely we'll be seeing it in the next episode or the one after that.
And the good news just keeps on coming for this perfect Paradise couple! As we just learned earlier this week, Carly is pregnant with her and Evan's first child. The baby is due around February, so they really have so much to look forward to right now. And we'll be able to see the magic unfold in front of our eyes when Carly and Evan's wedding is aired in the next couple of days on Bachelor in Paradise! So get ready for some wedding bells very soon — like, next episode soon!