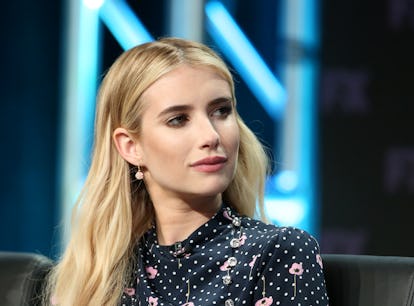 Emma Roberts Called Out Her Mom For Breaking This Huge Momstagram Rule
This isn't the first time Emma's called out her mom's IG habits.
Variety/Penske Media/Getty Images
Emma Roberts may be a social media queen, but her own mother is still learning the unwritten rules of IG etiquette. Three years after Roberts described the unexpected "Instagram war" she had with her mom, Kelly Cunningham, over the announcement of her pregnancy, the battle raged on when Cunningham shared a photo of her grandson Rhodes. It was a totally adorable pic of the 2-year-old, but it went against Roberts' decision to keep her son's face off social media.
Many celeb parents and non-celeb parents alike choose to not show their young children's faces on Instagram for numerous reasons. Most famously, Kristen Bell and Dax Shepard began using emojis and other methods to block their children's faces in social media pics. "My feeling is that I chose a career in the public eye," Bell told Romper in 2020. "I chose to have my picture taken. I don't know them yet. I don't know if they will want that. So I really don't have the right to choose for them."
Roberts has followed a similar posting strategy to Bell and Shepard's. Ever since her son, Rhodes, was born at the end of 2020, she's been careful to never fully reveal his face in her IG posts. That's why her mom's photo didn't sit too well with her.
Cunningham posted a pic fully showing her grandson's face on Feb. 3. Roberts noticed the photo later that week on Feb. 10, and shared her reaction in her IG stories: "When your mom posts your son's face without asking but you love them both so whatever." Cunningham responded by poking fun at her past IG misunderstandings with her daughter. "The battle continues!!" the proud grandma wrote. "I love you Q!! Touche." Since the pic of Rhodes is still up on Cunningham's account, it seems like the playful back-and-forth wasn't too serious.
As Cunningham referenced in her reply, she and Roberts have hit some hurdles before due to her Instagram naïveté. Back when Roberts was still pregnant with Rhodes in 2020, her mom accidentally announced the pregnancy in her IG comments. Roberts described how her mom responded to fans sending their congrats on Roberts' pregnancy before the star had even officially confirmed anything during her Oct. 20, 2020 appearance on Jimmy Kimmel Live. "She was like, 'Thank you so much for the well-wishes. We're so excited,'" Roberts recalled. "And then I said to her, 'Mom, you revealed my pregnancy.' She goes, 'Emma, you announced it.' And I said, 'No I didn't, that was a tabloid.' She's like, 'Oh, that wasn't clear.'"
"Mothers and Instagram, it's just a bad combination," Roberts joked, revealing the lighthearted tiffs they've gotten in due to the app. "We kind of laughed, we kind of got into a fight, I blocked her at one point... It's been an Instagram war with my mother that I never saw coming."