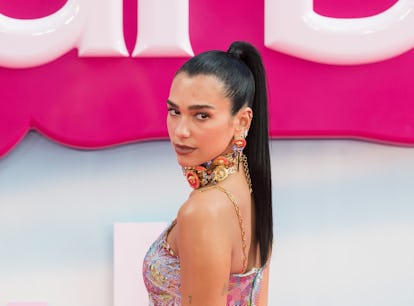 Dua Lipa's "Houdini" Is A Dark Disco Bop
The disco queen has returned!
She's changed the rules, levitated, and danced the night away, but now Dua Lipa is flipping the script for her third studio album. The superstar had been mysteriously teasing the new project via social media, as fans noticed she would repeatedly post images and then delete them soon afterward. Now, we know what she's been trying to tell us this whole time, and her magical new era is finally starting to appear.
Lipa unveiled the title of the lead single for DL3 on Nov. 1, and suddenly, her strange social media behavior made sense. She revealed "Houdini" would release on Nov. 9, signaling the beginning of her new era. As her mirrored promotional image forecasted, Lipa is experimenting with trippy new themes on this new album.
The as-of-yet untitled album will follow 2017's Dua Lipa and 2020's Future Nostalgia, both of which spawned multiple chart-topping hits. While her debut was more tinged with electropop, Lipa fully embraced the disco fever in Future Nostalgia. She has hinted that her new sound will experiment with '70s-era psychedelia.
Although this will be her first new album in over three years, it's not like Lipa has been fully off the map recently. She collaborated with Megan Thee Stallion in 2022 on "Sweetest Pie," and dominated 2023 with her contribution to the Barbie soundtrack, "Dance the Night."
As you wait for Lipa to pull back the curtain on her most spellbinding spectacle yet, here's everything we know about the upcoming album.
"Houdini" Is A Perfect Lead Single
After weeks of cryptic clues, Lipa finally unveiled her first magic trick by dropping "Houdini" along with its sweaty, dance-heavy music video. The lead single proves that Lipa hasn't entirely ghosted the disco genre after Future Nostalgia — it's darker and more psychedelic than her previous releases, but still an undeniable disco banger.
The Full Album Is Coming In 2024
Lipa hasn't revealed an exact date yet, but in an Aug. 7 New York Times profile, she confirmed the album will be out sometime in 2024. Since the lead single is dropping in November, hopefully that means the album is coming pretty early on in the new year.
It's Got A Very Buzzy Producer
Many fans believe Lipa worked closely with Tame Impala frontman Kevin Parker in producing the new album, especially after it was confirmed that Parker produced "Houdini."
Lipa has collaborated with several artists in the past, but has only included one duet on her past two albums — "Lost in Your Light" with Miguel on her debut. Time will tell if she'll stick to that trend, or bring along some other superstars for her trippy new release.
This article was originally published on