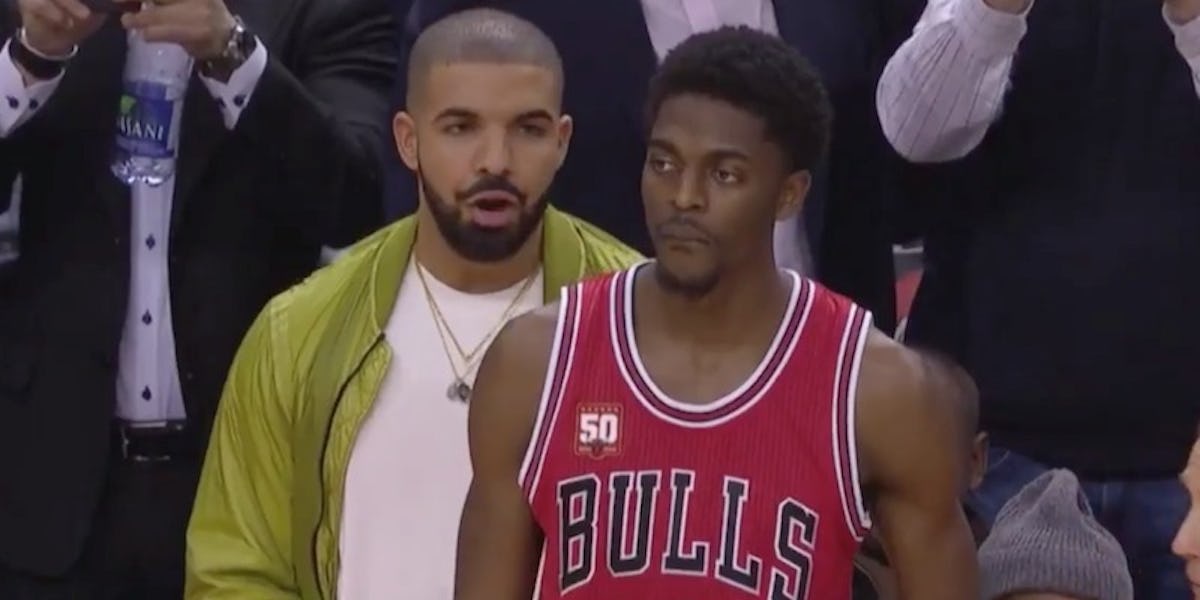 Drake Almost Helped Toronto Beat The Bulls By Being Super Annoying
Twitter
It must be weird to be a professional athlete and know you'll one day have to cross paths with Drake no matter how hard you try avoiding it.
From Serena Williams at last year's US Open to the entire University of Kentucky Wildcats basketball squad, it seems like the Toronto-native is constantly finding ways to shamelessly inject himself into the lives of every sports figure known to man.
Monday's tense game at the Air Canada Centre between the Chicago Bulls and the Toronto Raptors further proves my point.
Drake's true colors came out when he decided to distract the Bulls' starting shooting guard Justin Holiday enough to cause a five-second violation.
In other words, Holiday didn't inbound the ball on time thanks to Mr. Toronto seemingly heckling from the sidelines. Who knew Drake would go this far just to show his unconditional love and support for his hometown?
I mean this... this is a whole new level of trolling. Drake is officially the kid who reminds the teacher homework was assigned the night before just as class is about to end.
Despite Drake's persistent pestering and overbearing distraction tactics, the Raptors still lost 109 to 107. Look what you've done, Drake. Solid effort, though.
Check out the clip below for a closer look!
Drake draws 5 second call on the Bulls (h/t @HoolianJulian) pic.twitter.com/ukZnFIR4lE — The Cauldron (@TheCauldron) March 15, 2016
Citations: Drake Helps Cause Five-Second Violation on Bulls With the Game on the Line (Complex)