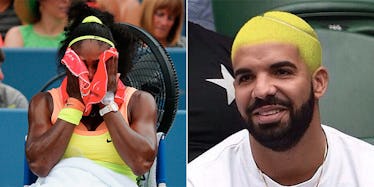 Everyone Is Blaming Drake For Serena Williams Losing At The US Open
Getty Images/Twitter
It was all going so well.
She was winning trophies, and he was winning rap feuds. She was fine with showing PDA, and he was even going to the gym to become a better man for her.
Everything was going smoothly, until today when Drake showed up at the US Open semifinal to show support for Serena.
Drake, scowl-clapping master pic.twitter.com/ebWmaiYld2 — Cork Gaines (@CorkGaines) September 11, 2015
What ensued was a still-unbelievable Serena loss to a massive underdog... and then people remembered whomever Drake supports never wins... and then the Internet went off.
It wasn't long until people started to reflect on Drake's history as a groupie.
The #DrakeCurse of 2015 is so real. pic.twitter.com/80q6Pmcjde — Drew Franklin (@DrewFranklinKSR) September 11, 2015
And then everyone put two and two together.
The Curse of Drake strikes again: pic.twitter.com/0Q1qQOjubi — CBS Sports (@CBSSports) September 11, 2015
So you know it was time for the jokes to fly.
If Drake bet every horse in a race, I'm guessing an elephant would somehow prevail. — Tim Reynolds (@ByTimReynolds) September 11, 2015
Serena's not trying to hear his excuses tonight.
Drake: "So cry if you need to, but I..." Serena: "STOP SINGING." — Alex Kennedy (@AlexKennedyNBA) September 11, 2015
Just in case Donald Trump needed ideas to #MakeAmericaGreatAgain...
Drake is no longer allowed to attend major sporting events. — Taylor Rooks (@TaylorRooks) September 11, 2015
Too bad Meek couldn't get Twitter to turn on Drizzy like this.
Roberta Vinci hurt Drake's career 20x worse than Meek Mill did. — Peter Burns (@PeterBurnsESPN) September 11, 2015
Michelle Beadle doesn't want to hear your excuses.
My favorite person right now is the 'Nu uh...Drake's not a curse. Drake was at Wimbledon....wah wah wah waahhhhhhhh.' guy. #BlameDrake — Michelle Beadle (@MichelleDBeadle) September 11, 2015
But this is the best one.
Drake should have gone on a world tour, not his girls tour — Michael McNamara (@McNamara247) September 11, 2015
Hey Drake, if Serena cuts you off, at least there's Lolo.
Well when Serena breaks it off with Drake I'm here for you boo. My season is already in the crapper so no one will blame you. — Lolo Jones (@lolojones) September 11, 2015