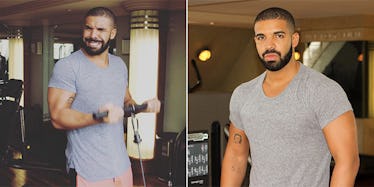 It Looks Like Drake Is Bulking Up In The Gym To Impress Serena Williams (Photos)
If you haven't heard by now, Drake is sort of dating Serena Williams.
A power couple, indeed, but we know where most of that power is coming from, and it ain't from the Canadian.
Still, the relationship is a beautiful thing, and despite the five-year age difference, Drake and Serena have a lot in common -- like their passions for hitting the gym and keeping their bodies in top shape.
Drake has some catching up to do as Serena Williams is, of course, a world-class athlete. But, he's well on his way.
Drizzy has been working hard in the gym, and the results are starting to show. If he keeps going at this rate, he can join the WWE!
Drake is getting pretty swole, and it's no wonder why.
He's dating Serena Williams, so you know he has to keep his body in top shape.
He also looks extremely stressed with these bicep curls.
Since he got this beard, it's like he has a new outlook on life.
He's hitting the gym "hard" with these deadlifts.
And the ropes are essential for looking like you work out hard on Instagram.
But, he's still bench pressing on a Smith machine, which is basically cheating.
It's true being in love makes people do some crazy things.
But, you're not fooling anyone. I know you're not really curling that 145-pound bar, Drake.
Citations: Drake Shares New Photos of His Buff Bod, Internet Swoons (NTRSCTN)