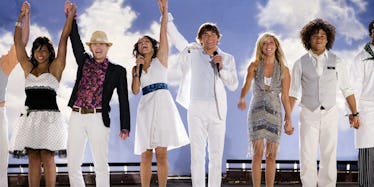 Time To Freak Out: Disney Announces 'High School Musical 4' Is Officially In The Works
Disney Channel
This just in: Disney Channel will soon regain its status as a member of the popular clique, as the network just announced the fourth installation of its brand-leading franchise, "High School Musical."
"High School Musical 4," is officially in the works, according to the network, coming one decade after the first installment.
The Disney Channel Original made its debut in 2006 with a now-iconic cast including Zac Efron, Vanessa Hudgens, Ashley Tisdale, Corbin Bleu, Lucas Grabeel and Monique Coleman.
The franchise catapulted at least half of the original squad into superstardom, as Zac Efron's face continues to make pleasant appearances in box office hits from "Neighbors" to "Dirty Grandpa" and more to come this year. Not to mention, Vanessa Hudgens has made the shift from TV to music to theater, owning the stage and screen in the recent telecast of "Grease: Live" on ABC.
Unfortunately, the fourth chapter of East High School likely won't include our favorite characters who gave us our most treasured memories of being young, in love and "in this together."
Instead, "High School Musical 4" will introduce a whole new cast of characters played by up-and-coming actors as the East High Wildcats, in addition to rival West High Knights. The small-town sister-school drama is already brewing.
Of the upcoming sequel, Disney Channel President Gary Marsh said,
High School Musical is part of Disney Channel's DNA. It embodies all that we stand for. As a way of continuing to embrace that heritage, we're excited to announce 'the start of something new' as we launch a search for a new class of East High Wildcats to star in a fourth installment of the 'High School Musical' franchise.
Did you hear that??? This is "THE START OF SOMETHING NEW." And to that we say, "guess it's now official. Can't back out," Gary. Now we know, "this is truth; this is fate. And together, we see it coming," Gary. Don't disappoint us now, Gary.
In addition to Gary, "HSM" veteran writer Peter Barsocchini, "Hannah Montana: The Movie" writer Dan Berendsen and Disney Channel "Teen Beach Movie" director Jeffrey Hornaday will take the lead on the fourth installment of the franchise.
Since Zac Efron utterly failed "HSM" fans and decided not to show his face at the original cast reunion back in January, we can't take much more letdown.
Here's hoping this sequel isn't as much of a total mind f*ck as "Fuller House" turned out to be.
Citations: Variety