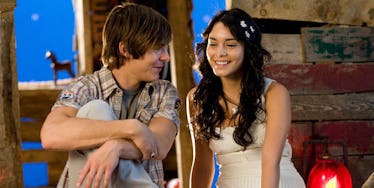 'High School Musical' Fans Are Pissed This Actor Won't Be At The Reunion
Disney-ABC Domestic Television
What the actual f*cking hell, Zac Efron?!?!?!
There is a "High School Musical" reunion coming our way, and the WORLD as a whole could not be more thrilled.
A chance to revisit the hallowed halls of East High and catch up with Troy, Sharpay, Gabriella and the gang? Fantastic! LET US AT IT!
Suddenly, all seems right in the universe -- until you realize Zac Efron won't actually be at the reunion because there is no justice in life.
Fans are rightfully furious at Efron, who reportedly wasn't at the "HSM" tribute filmed on Saturday.
Zac Efron is a soul-crushing Adonis!
GET YOUR HEAD IN THE GODDAMN GAME, AND COME TO THIS EFFING REUNION, ZEFRON.
Zac's Instagram is a hilarious rage pit full of angry "HSM" faithfuls who want the reunion they deserve.
Don't worry, though. Efron is keeping busy doing things other than being the literal personification of missed opportunities and failed dreams.
On Monday, he passed a major milestone on Instagram and also remembered Martin Luther King Jr. What a day!
We're not all in this together, Zac. Not even a little bit.
Citations: Fans attack Zac Efron on social media for missing High School Musical 10 year special (New York Daily News)