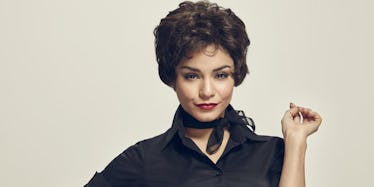 Vanessa Hudgens Crushes 'Grease: Live' Performance One Day After Dad's Death
Fox
Vanessa Hudgens had the performance of a lifetime last night.
It's hard to imagine the emotional roller coaster Vanessa Hudgens went through over the past few days. Just hours before the "High School Musical" alum was set to star as Rizzo in Fox's "Grease: Live," Hudgens announced to fans her father died of stage 4 cancer.
Greg Hudgens was 65 years old.
Hudgens made the immediate decision to perform in the show, telling fans she would continue on in honor of her father.
Fans of the 27-year-old tweeted their support for Vanessa and her decision to play Rizzo on Sunday.
Her performance, by the way, was amazing.
Fellow East High-ers also sent Vanessa their love.
Our thoughts and prayers are with the Hudgens family.
Citations: Vanessa Hudgens performs in Grease Live hours after dad dies (Fox News)