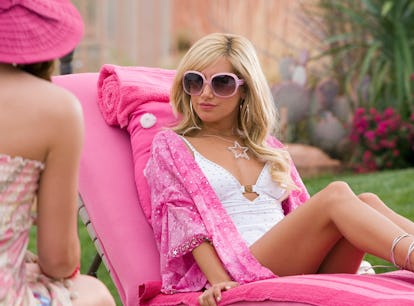 The Best Disney Channel Movies With Carefree Summer Vibes To Watch Right Now
It's not really summer if you haven't watched High School Musical 2 yet.
Disney Channel
Summer days are for relaxing by the pool, taking trips with friends, and eating all your favorite frozen treats. And when the sun does eventually go down, it's time for a movie night. There's no better way to unwind after a long day in the sun than inviting all your friends over and pressing play on a nostalgic fave that perfectly captures the carefree, sun-kissed vibe of the summertime. If you're looking for the right movie that will have you and all your friends reminiscing about your favorite summers back in the early 2000s, then pull up your Disney+ account and select one of these Disney Channel Original Movies that encapsulate the joy of the season.
Two of the most exciting events for anyone growing up were summer break and the premiere of a new Disney Channel movie. They were the ultimate hangout opportunities, and even moreso over the summer where there were no worries at all about school or homework. That's why some of the best DCOMs ever were either set in the summertime or lean into a tropical vacation vibe that just hits different in the sunniest season. Relive the magic of a fun summer flick with this list of recommendations.
1. Camp Rock
No summer camp can ever compare to Camp Rock. Demi Lovato's first movie is full of music, dancing, and the Jonas Brothers — what could be better!? Plus, its summer-camp setting is the perfect aesthetic for a fun-filled summer night, inviting you and your friends to think back on your days going off to camp. And then, of course, you can end your night by belting "This Is Me," just be sure you coordinate who's singing the Demi part and who's doing the Joe part.
2. High School Musical 2
When it comes to perfect summer movies, it's hard to beat High School Musical 2. The original movie was full of school-year drama, but the sequel kicks off with the last day of school and launches into a full celebration of summer vacation. The beach-y resort setting will have you planning your next getaway, which will surely be just as "fabulous" as Sharpay says.
3. Teen Beach Movie
After High School Musical graduated, another ideal summer movie surfed onto Disney Channel. Inspired by '50s aesthetics and old-school musicals like West Side Story, Teen Beach Movie fully delivers what its title promises. It's the perfect watch to extend a great day at the beach into the night.
4. The Even Stevens Movie
The Even Stevens Movie delivered the ultimate summer vacation... even if it was technically fake all along. Yeah, the twist in the movie is that the tropical island the Stevens family jets off to is actually a reality TV set. Real or not, those beach-y tropical moments will still fill you with wanderlust.
5. The Cheetah Girls 2
Like High School Musical, the Cheetah Girls movies left school behind in the sequel, and it makes for even more eye-catching scenes. The four singing besties flew to Barcelona with dreams of being discovered at a music festival. The whole movie could basically double as a tourism ad for Barcelona, because once you watch the Cheetah Girls strut throughout the Spanish city's art-filled streets, you'll be making plans for your next summer vacay.
6. Johnny Tsunami
There's nothing better than surfing in the summer, which is something Johnny Kapahala knows all about. Although half of Johnny Tsunami takes place in the wintry Vermont, as Johnny has to learn to adapt his surfing skills into snowboarding, his Hawaiian home is a picture-perfect summer beach.
7. Eddie's Million Dollar Cook-Off
Baseball and barbecue are quintessential summer delights, and Eddie's Million Dollar Cook-Off delivers them both. The movie about a baseball player who discovers his love of cooking will hit just right whether you just got back from a game with you crew, or your craving some delicious summer-y treats.
8. A Ring of Endless Light
Before Mischa Barton was the queen of The O.C., she was navigating a love triangle in another beach town. A Ring of Endless Light stars Barton as a teenager who spends her summer connecting with dolphins on an island off the New England coast. It's basically the ultimate movie for anyone who's always wanted to swim with dolphins.
9. Jumping Ship
The Lawrence brothers had pop culture in a chokehold back in the early 2000s, and that included giving us a great summer adventure flick in Jumping Ship. When their trip to Australia goes awry, the three are left stranded on a deserted island. It may not be their ideal summer, but it sure makes for a great summer watch.
Don't have Disney+ yet? You can sign up here.