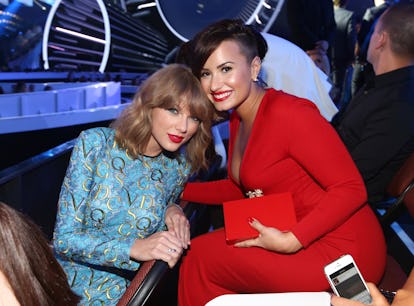 There's A Theory Demi Was Singing About Taylor In "Cool For The Summer"
In the wake of Demi Lovato's renewed friendship with Taylor Swift, fans have started to notice an unexpected connection between two of their hit songs. And it's not just a few lyrical similarities in Swift's "Cruel Summer" that's been fueling a wild fan theory that Lovato's "Cool for the Summer" could possibly be about Swift. Lovato (who uses both she and they pronouns) opened up about the 2015 song's inspiration recently, and the new information sent Swifties into a full-on spiral.
The uncomfortable rift between Lovatics and Swifties seems to have finally been resolved recently after the two superstars showed their love for one another at the 2023 VMAs. As fans of both artists know, they had allegedly been feuding for the past decade, after it seemed like Lovato cut ties with her longtime bestie Selena Gomez after she began hanging out with Swift. Despite all that, Swift was fully supportive of Lovato's VMAs performance, passionately dancing and singing along to all her songs in the crowd. Right after the show, fans noticed that Lovato had started following Swift on social media again.
It looks like a return to the good old days, when Lovato and Swift were close friends in the early 2010s. And the mended friendship has also sparked a pretty wild theory among fans. During her Sept. 11 appearance on The Howard Stern Show, Lovato divulged that her 2015 single "Cool for the Summer" was inspired by a very real hookup they had with a famous woman. She revealed that she never told this fellow celebrity she inspired the song, and felt it was "inappropriate" to publicly name names. "People are going to wonder now," Lovato laughingly admitted.
And of course, they were completely correct. Fans began comparing the lyrics in "Cool for the Summer" with Swift's own seasonally-inspired track "Cruel Summer," noticing certain similarities in the hookups both songs are describing.
Of course, wild fan theories come with the territory of pop-star standom. It's unlikely Lovato will ever reveal who they were singing about in "Cool for the Summer," so fans will have to keep grasping at straws and hunting for any little clue.