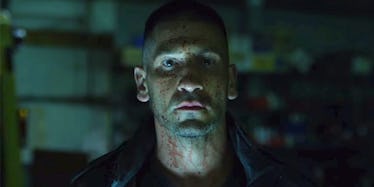 If You've Watched 'The Defenders,' You Won't Have To Wait Long For 'The Punisher' – UPDATE
Netflix
Marvel wasted no time getting fans pumped for its next show after wrapping up its newly-released The Defenders. After the credits started to roll following the eighth and final episode of the new superhero team-up series, fans got to see a first look teaser for the upcoming show Punisher. Although the teaser didn't give us a release date, there's reason to believe it'll be hitting Netflix in just a couple of months. So exactly when does The Punisher premiere? Some details seem to be pointing to mid-November.
Update: The Punisher finally has a release date. A new trailer for the Netflix show dropped on Oct. 19 and confirmed The Punisher will be released on Nov. 17, 2017.
Earlier: Given that we've only seen teasers for The Punisher and none of the other Marvel-Netflix superhero shows yet, it's safe to assume it will be the next project in the franchise to premiere, which makes sense due to all of the other actors having so recently filmed The Defenders together (which Jon Bernthal's Punisher does not appear in). Netflix has already confirmed The Punisher will premiere sometime in 2017, and as we head into fall, we must be getting incredibly close.
As I mentioned above, most fans are pinpointing the Punisher premiere to mid-November, in particular November 17. Now, this date isn't official, but one Punisher episode director did reveal her episode of the show would be airing in November, and historically Netflix likes to time its releases right before major holidays. The streaming service released Jessica Jones the Friday before Thanksgiving in 2015, and since Turkey Day falls on November 23 this year, some sleuths are pretty sure Punisher will be dropping on the Friday before: November 17.
Anticipation for the Punisher spinoff series has been building since Jon Bernthal appeared as the antihero in the second season of Daredevil last year. Plagued by PTSD from his time as a Marine sniper and vengeance for the murder of his family, Frank Castle took on the identity of Punisher, an ammunitions and military tactics expert who tortured and murdered criminals. Punisher served as the antagonist at the beginning of Daredevil Season 2, as he and Daredevil butted head over their differences in whether or not to kill criminals, but in the end fought side by side to take down The Hand.
The first teaser for The Punisher presents the series as an incredibly dark and gritty look at the antihero, which definitely suits him. Though nothing is official yet, expect to see The Punisher pop up in your Netflix queue in almost exactly two months.