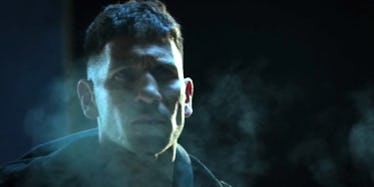 This 'Defenders' Post-Credits Scene Has Fans Pumped For 'The Punisher'
Netflix
The superhero drama didn't end with the final episode of The Defenders. True to Marvel tradition, the comic book franchise included an exciting post-credits scene at the end of The Defenders to give fans a sneak peek at its next project, a gritty spinoff series for the Daredevil antihero Punisher. So be sure to stick around after the last scene in The Defenders, because the Punisher teaser in Defenders post-credits scene is definitely worth your time.
The first teaser for the new series shows Punisher, a former Marine sniper played by Jon Bernthal, hammering his iconic skull logo into a slab of cement, while his gravelly voiceover reflects on the character's tragic past and ominously foreshadows his violent future. We also see quick shots of Punisher back when he was Frank Castle, the soldier. There are brief scenes from his days in the military and with his family that suggest the new series will likely include a number of flashbacks to Punisher's past.
There was some fan speculation that Punisher may appear in The Defenders, but it turned out not to happen. Well, I guess this teaser is technically part of The Defenders, so maybe it kind of did. Check out the teaser for yourself below.
As a reminder for fans, we first met Punisher in the second season of Daredevil. Frank Castle served as a complex antihero on the series, initially going against Daredevil as the season's main villain, but eventually fighting alongside Matt Murdock in the end to take down The Hand. Castle took on the role of Punisher, an expert in ammunitions and military tactics who brutally punishes criminals with torture and murder, after his family was killed.
Daredevil and Punisher continued to butt heads over their methods of fighting crime — Daredevil advocated for non-lethal capture, while Punisher didn't bat an eye at murdering anyone in his way. Punisher's moral complexity as a crimefighter who kills without a second thought has made him a fan favorite character in the Marvel universe.
We still don't have an exact release date for Punisher the series, but Netflix has confirmed it will come out sometime this year.