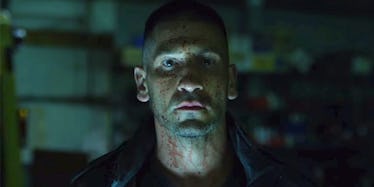 When Will The Punisher Show Up In 'The Defenders'? Fans Couldn't Help But Wonder
Netflix
The Defenders is bringing back pretty much every fan-favorite character from all of the Marvel Netflix shows. Daredevil is back with his trusted friends Karen Page and Foggy Nelson and mentor Stick; Jessica Jones is still getting help from bestie Trish Walker and super-lawyer Jeri Hogarth; Luke Cage brought along his new love interest Claire Temple and badass cop Misty Knight, and of course Iron Fist still has swordsman Colleen Wing watching his back. Even dead characters like Elektra are back in action. So with all these returnees, everyone is pretty much wondering the same thing: Will Punisher be making an appearance? After all, Punisher is pretty much the only fan-favorite superhero to have a major role in a Defenders lead-up series to not show up in the first few episodes of the new team-up show.
As a reminder, Frank Castle aka the Punisher was a major player in Season 2 of Daredevil, as a complex antihero who started out as Daredevil's enemy but evolved into more of a tentative ally. Plagued by rage over the murder of his family, Castle used his training as a Marine sniper to eradicate crime in New York City by incredible brutal means, including torture and murder. Daredevil initially fights against Punisher and attempts to convince him to stop murdering criminals but in the end the pair team up to take on The Hand.
But unfortunately, it doesn't look like the Defenders will be getting any help from Punisher in the new series. Punisher actor Jon Bernthal's IMDb page does not list him among the cast in any Defenders episodes. Unless Marvel and Netflix are just keeping some surprise cameo at the end of the season super secret, we probably won't be seeing Punisher this time around. But that's OK because his own spinoff series The Punisher is coming to Netflix later this year, so you can have your fill of Punisher then.