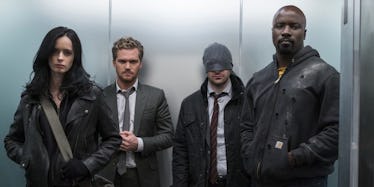 The Cast Of 'The Defenders' Wil Make Your Marvel Super Hero Dreams Come Ture
Netflix
OK, any fan of Marvel Comics is definitely already counting the days until The Defenders is released on Netflix. If the new series is anything like previous Marvel/Netflix collabs like Iron Fist, Luke Cage, Daredevil, or Jessica Jones, then it's definitely going to deliver the action and thrills we're waiting for. Don't take my word for it, though, just take a look at The Defenders' cast of characters, then try and tell me we aren't in for one hell of a show. So far, we've gotten a ton of info. about which actors will be reprising their roles for the upcoming Netflix original series, as well as which newcomers we can expect to see. All in all, this cast is utterly perfect if you ask me and I've already planned out several hours of binge-time for this show this weekend.
Executive Producers of the show, Douglas Petrie and Marco Ramirez, also think Marvel fans are in for a treat with The Defenders. They said,
This is the big one. Four amazing casts, four amazing series, now all in one amazing story. We are thrilled at the opportunity to deliver the show that both we and the fans have been waiting for.
As we gear up for what will surely be a badass new addition to the Marvel Cinematic Universe, let's take a look at who we'll be seeing on August 18 when The Defenders premieres on Netflix.
Finn Jones as Danny Rand/Iron Fist
Finn is obviously a veteran in the Marvel Universe. He also plays Danny Rand in the Netflix and Marvel mash-up, Iron Fist.
Mike Colter as Luke Cage
Like Finn Jones, we've seen Mike Colter before in his own Netflix original series, Luke Cage. There's no doubt at all that he's gonna deliver in The Defenders.
Charlie Cox as Matt Murdock/Daredevil
Another returning character from the MCU, you might be familiar with Charlie Cox's Netflix/Marvel collab, Daredevil.
Krysten Ritter as Jessica Jones
Krysten is someone else we've seen before on her own Netflix show, Jessica Jones.
Jessica Henwick as Colleen King
Jessica has shown us her badass moves as Colleen Wing before on Iron Fist; you may also know her as Nymeria Sand from Game of Thrones.
Rosario Dawson as Claire Temple
Rosario is DEFINITELY no stranger to the MCU or to Netflix. She's played Claire Temple on Jessica Jones, Daredevil, Luke Cage, and Iron Fist before. Clearly, she's got what it takes since we keeping bringing her back.
Elodie Yung as Elektra Natchios
Elodie has appeared before on Daredevil, so we know she's got the chops to hang with the rest of this badass crew, too.
Sigourney Weaver as Alexandra Reid
OK, I shrieked a little here. Sigourney is the only ~newcomer~ on this list, but I doubt we're in for any disappointment since she's amazing in everything she does. She'll be playing the villainous Alexandra Reid.
If you're not convinced by now, then I don't know what to say. There is no beating these characters (literally) and this cast. We're in for hone hell of a treat with The Defenders.