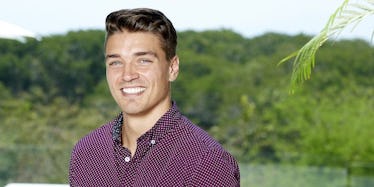 Fans Really Want Dean To Find Love On 'Bachelor In Paradise' & We're Here For It
ABC/ Bob D'Amico
After Monday night's disappointing Bachelorette finale, Bachelor Nation's hopes and dreams of a satisfying ending now hinges on ABC's Bachelor in Paradise. It's likely a fool's errand to have even the slightest expectations for ABC's least popular Bachelor show, but my happiness really just depends on one simple question: Does Dean get engaged on Bachelor In Paradise?
Look, I just want my boy Dean to be happy. I know The Bachelorette is hard on all the guys, but Dean really got the short end of the stick this season. Do you guys remember how ABC forced to him to talk to his dad for the first time in two years, despite their strained relationship and the fact that he really didn't want to? And then how Rachel dumped him in literally the same episode, right after she told him she loved him?
Yeah. Dean really needs to find some love. Though we don't yet know exactly what happens on Season 4 of Bachelor in Paradise, there does seem to be some evidence that suggests Dean Unglert and fellow Bachelor in Paradise contestant Kristina Schulman are dating. The evidence is mostly that Kristina not-so-subtly tweeted about Dean while The Bachelorette was airing, as well as liked a tweet about her maybe-boyf.
Then there's the fact that Dean was definitely kissing someone in the newest Bachelor in Paradise trailer — someone who definitely looks like they could be Kristina.
There's also just been rumors about Dean and Kristina dating floating around on the interwebz for months. Rumors aren't confirmation, but they are often are onto something. Of course whether or not Dean actually gets engaged remains to be seen, but fans are certainly hoping for the best! Bachelor in Paradise Season 4 premieres on Monday, August 14 at 8 p.m. on ABC.