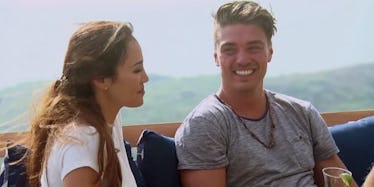 Dean And Danielle's Date On 'Bachelor In Paradise' Seriously Heated Things Up
ABC
Well, Bachelor fanatics, it looks like things are officially heating up in paradise and we finally have our first love triangle of the season on Bachelor in Paradise. From day one, we all assumed Dean and Kristina would be the fan fave couple this season (I even took the time to make up the moniker Krisdean), but anyone who watched last night's episode of BiP knows that Dean is officially Paradise's resident f*ckboy and now we don't know what to think anymore. That's right, after Dean and Danielle's date on Bachelor In Paradise, we're all a little confused because A) Dean and D-Lo are pretty hot together, and we low-key wanna ship them, but 2) WHAT ABOUT KRISTINA, YOU D*CK???
When Danielle showed up on the island with the date card, it was immediately apparent that all bets were off for the male contestants. I mean, the bachelorette is gorgeous, smart, and has a sweet personality, so obviously, any one of the bachelors would've been thrilled to accept a date with her. Ben Z. even flat out said,
Danielle's beautiful, she's funny. I think all, across the board, a lot of the guys would leave the person that they're with in order to go on a date with her.
But, much to Kristina's dismay, D-Lo chose the island's resident asshole, Dean for some fun and romantic alone time.
The two went ATVing together before they sat down to get to know one another a bit better over drinks, then things got seriously lukewarm when they started playing tonsil hockey and left me fanning myself with the paper plate I had my Totino's pizza rolls on just a second before.
All in all, these two do make a hot couple, but that doesn't change the fact that I had my heart set on a Krisdean romance this season. Dean and Kristina talked things through, but it still seems like the bachelor is over it... who knows, though, it's still early in the season, so I'm sure there will be plenty of surprises down the road. Maybe Kristina will find a hot, sweet bachelor and Dean will come crawling back to her? It's anyone's guess at this point.