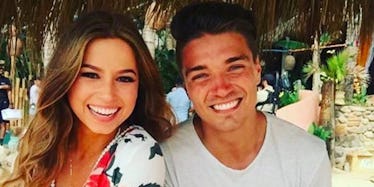 Dean & Kristina Had The First Date In 'Paradise' & It Was Perfection
Instagram
If you're anything like me, the rumors that Dean and Kristina from The Bachelor are dating are just too much for you to handle. Let's be real, Kristean is just the f*cking most adorable couple ever and, if the rumors are true, then I'm 100 percent here for this romance. That being said, Dean and Kristina's date in the Bachelor in Paradise premiere was so perfect and I think I officially stan this couple.
As soon as Kristina was given the initial date card, it was clear she'd be asking Dean for some alone time, and I can honestly say I had heart eyes during their entire date. Not only are they an attractive couple that clearly enjoys being around each other (*queue mariachi band and dancing*), but they bonded over their troubled childhoods and clearly share a deep connection and obvious chemistry with each other that neither of them shared with Nick or Rachel. At the start of the date, Kristina outright said she chose Dean because,
[He] is someone that excited me and that I felt an immediate spark with.
Honestly, same, girl. And the rest of their date just proved her right. That "immediate spark" was evident on both ends, and I think we'll be seeing a lot more of Kristean in Paradise episodes to come.
Fans of the franchise have been shipping these two ever since Kristina live-tweeted during one episode of The Bachelorette last season. While Rachel was on a date with Dean, the Bachelorette expressed concerns about his age (Rachel was 31 and Dean 25). Conveniently, Kristina tweeted immediately after, saying "Age does not define maturity or life obstacles," causing people to think Dean and Kristina might be an item.
Just recently Dean uploaded what is probably a major Bachelor in Paradise Season 4 spoiler to his Instagram. The picture he uploaded of himself and Kristina might confirm what we've all been thinking for a while: That he and the Kristina are officially an item. And it definitely confirms one thing we've all thought for a while: Jorge is a stud.
I guess for now all we have is this picture and their first date to show us how perfect these two are together, but I'm sure the rest of the season will give us plenty more opportunities to have our hearts melted by Kristean. Even though I'm still disappointed Dean isn't MY boyfriend, I can't wait.