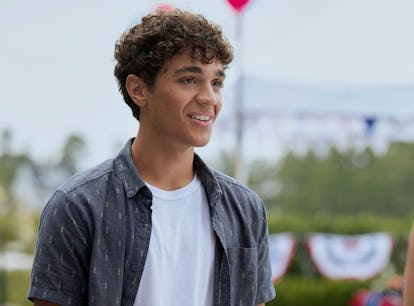 David Iacono Sees Cam's New TSITP Relationship As "Justification For Cam"
"He kind of got done dirty by the end of the season."
Prime Video
Additional reporting by Rachel Chapman.
Cam Cameron is finally getting some love, and David Iacono is so here for it. The first season of The Summer I Turned Pretty was rough for Iacono's sweet whale-loving character — he was all in for the perfect romance with Belly, but she clearly did not feel the same way about him. In the books, Cam disappears after Belly dumps him, but the series didn't let Cam's story end there. He reconnected with the Cousins crew in Season 2 of the TV series, and even got a second chance at love, a new development that Iacono sees as "some justification for Cam" after he "got done dirty" at the end of the first season.
Spoiler alert: This post discusses events up to and through The Summer I Turned Pretty Season 2, Episode 6. Cam's story in the new season of TSITP is totally new to fans. Instead of fading away as a nice but unremarkable memory for Belly of her first boyfriend, Cam actually reconnects with his ex in the series and becomes part of the core friend group. He stayed to work on the boardwalk on Cousins Beach rather than pursue his marine biology internship, so although he missed out on his dream job, he did wind up finding friendship... and maybe even love.
As Cam grew closer with everyone, he developed a particular interest in Skye, Conrad and Jeremiah's reclusive cousin who's attempting to come out of their shell. Finally, at the big blowout beach house party, Skye worked up the nerve to kiss Cam, creating a totally new relationship that didn't exist in Jenny Han's novels.
And nobody was more excited for that spark than Iacono. He tells Elite Daily why he expects fans to fall in love with Cam and Skye's unexpected romance. "I think people really wanted Cam to end up with somebody," Iacono says. "So while we were filming it, I was just excited for fans of the show to feel that catharsis. Some justification for Cam to be happy, because he kind of got done dirty by the end of the season."
Of course, readers of Han's books already know how the show's central relationships turn out, but for Cam and Skye, the future is full of possibilities. See what unfolds as new episodes of The Summer I Turned Pretty air Fridays on Prime Video.