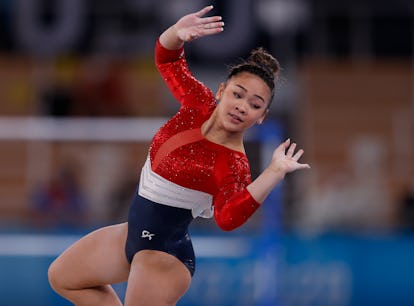 The New DWTS Cast Includes Matt James, Olivia Jade, And Jan From The Office
Fred Lee/Getty Images Sport/Getty Images
Dancing With The Stars is back! The beloved ABC ballroom dancing competition is popular for its spicy choreo and flashy costumes, but it's the celebrity competitors that really makes the show a classic fan-fave. So, who's on the Dancing With The Stars Season 30 cast? ABC finally announced its full roster.
On Aug. 26, ABC made its first casting announcement during its Television Critics Association presentation as a preview for the season, revealing the first two cast members to be joining Dancing With The Stars Season 30: Suni Lee and Jojo Siwa. Given their backgrounds in artistic movement — Siwa is a Dance Moms alum and Lee is a gold medal-winning Olympic gymnast — they're sure to be stiff competition for the rest of the cast. Speaking of which, on Sept. 8, ABC released the full Dancing With The Stars Season 30 lineup on Good Morning America, unveiling an absolutely stacked list of celebs.
Although Season 30 is shaping up to be pretty memorable, Season 29 was also one for the books, as the dance competition show made some big changes last year, including replacing longtime hosts Tom Bergeron and Erin Andrews with Tyra Banks. Season 29 also included an impressive roster, like Tiger King's Carole Baskin, rapper Nelly, and actor Skai Jackson. Season 30 clearly has some big shoes to fill, but it looks like it's already off to a good start.
Here's a rundown of the celebs:
Suni Lee
Suni Lee wowed the world with her impressive gymnastics skills at the 2021 Tokyo Olympics, where she earned a gold medal in the all-around competition. Not only that, but she also made history as the first Hmong American to compete on Team USA Gymnastics at the Olympics. If her dancing skills are even half as good as her bar routines, she's sure to be a tough competitor this season.
Jojo Siwa
YouTuber, dancer, and Nickelodeon star, Jojo Siwa is known for many things, and she's sure to be just as entertaining on the dance floor this season of Dancing With The Stars. In even more exciting news, Siwa will be making Dancing With The Stars history as the 18-year-old will be paired with a woman dance partner in the first same-sex pairing on the show. This comes just months after Siwa revealed she's pansexual and publicly opened up about her relationship with her girlfriend, Kylie Prew.
Matt James
It's a tradition for DWTS to bring aboard someone from the Bachelor franchise, and Season 30 is no exception. Matt James' run on the show was historic, as he was the first Black leading man for the series and a turning point in the franchise dealing head-on with its historically white casts. Bachelors are hit or miss when it comes to the DWTS dance floor, so fans will have to wait and see how James does once he straps on his ballroom shoes.
Olivia Jade
Next on this season's cast list is Olivia Giannulli, aka Olivia Jade. The daughter of actor Lori Loughlin was already famous as a social media influencer before news of the Varsity Blues scandal broke in 2019. Since then, she's started a TikTok account, which has taken off. It remains to be seen how well she'll compete this season, but YouTubers and TikTokers have tended to surprise on this show — and in a good way.
Melora Hardin
Hey Jan! Melora Hardin is best known for her turns in The Office, Monk, and The Bold Type, but she's got a few hidden talents up her sleeve. The actor has quietly had a singing career going throughout her time on the big and small screens. She's also turned up on a few soundtracks, including the 1990s classic The Rocketeer. But can she dance? That remains to be seen, but if she can, this is one fan-favorite to watch out for.
Melanie Chisholm
In 1997, the Spice Girls ordered the world to spice up their life. Now, Mel C. is here to order DWTS to do the same in time for its 30th season. The former Sporty Spice got her nickname for her competitive spirit and athleticism, both of which will come in handy when competing on the dance floor.
Mike Mizanin
Better known as "The Miz" to wrestling fans, Mizanin is a longtime veteran of reality competition shows. He first starred in The Real World before landing his WWE gig through the wrestling company's Tough Enough reality series. Mizanin recently returned to reality shows on Miz and Mrs on USA, so starring on DWTS is a natural move. As for how he'll do, wrestling is a heavily choreographed performance that easily translates to the dance floor — Chris Jericho of the WWE did super well the year he competed — so his competitors better watch out.
Jimmie Allen
Who says cowboys can't dance? Country superstar Jimmie Allen is here to prove that he can scoot his boots. Another veteran of reality shows, Allen appeared on both The Voice and American Idol before being signed his current record deal. Like his first hit single says, he's here to give dancing his "Best Shot." Fans know music stars often do super well in dancing competitions like this, so he's definitely one to watch.
Christine Chiu
DWTS has recently started casting Netflix stars (Season 29 had several), and in keeping with that new trend, this year's cast will feature Christine Chiu of the hit reality series Bling Empire. Chiu is a philanthropist with little in the way of formal dance training, so it's unclear if she'll last very long, but Bling Empire (which was recently renewed for Season 2) is a big hit, so she'll have a fan base behind her even if it takes a few turns around the dance floor to find her feet.
Iman Shumpert
In the sports section of the DWTS cast, Iman Shumpert, currently with the Brooklyn Nets, will fill the slot. Though basketball is a lot of footwork, sports figures are a major hit-or-miss bet on DWTS. Sometimes they last all the way to the finals; sometimes they're out in the first weeks. Fans will have to wait and see which side of the divide Shumpert lands on.
Kenya Moore
Most fans know her today from the cast of The Real Housewives of Atlanta, but Kenya Moore first became famous when she won Miss USA in the 1990s. That may be a factor that makes a difference for her competing on this season of DWTS, since she's got a history of being comfortable on stage and performing for judges. Whether or not the reality star is poised to go long in this year's competition remains to be seen, but expect the RHOA fandom to turn out in droves for her.
Cody Rigsby
Every season of DWTS, there's one kind of obscure competitor who makes the majority of viewers go "Who?" But if you've been riding a Peloton in the last year and a half, you def know Rigsby, one of the most popular instructors to lead the at-home workouts. As a fitness instructor, he's got a good chance of doing well on the dance floor, but he comes in with a fan base that might not be part of the DWTS voting blocks, so it remains to be seen how long he lasts.
Brian Austin Green
In the "older actors" category, DWTS brings in Brian Austin Green, who rose to fame back in the 1990s on Beverly Hills 90210. Green was most recently seen in the reality throwback BH90210, along with most of the cast from the original series. But chances are, this is one competitor who may not last long, since he has little dance training. He even told Good Morning America of his game plan for the competition, "I'm just trying to keep the bar as low as possible."
Martin Kove
Speaking of older actors who rose to fame in the 20th century, this season has two, with Martin Kove from the Karate Kid movies also taking to the dance floor. He's the other Netflix name this season on DWTS; he's currently in the Karate Kid spinoff series, Cobra Kai, which is one of the streaming service's biggest hits in recent years. Unlike Green, Kove has a history of fight training and an athletic background stemming from his time in the franchise that made him famous, so he could be a more significant threat than one might think.
Amanda Kloots
And finally, this season's ringer: Amanda Kloots. If you only know Kloots from her hosting The Talk, then buckle up. She's been a Broadway dancer who performed eight times a week as part of the ensemble in multiple hit musicals... and she's a former Rockette. Yes, you read that right; there is a former professional dancer as part of the 30th season of DWTS. One can only hope the rest of the cast sits back and learns, because Kloots will most likely be serving lessons every week, all the way to the finals.
Dancing With The Stars Season 30 premieres Monday, Sept. 20, 2021 at 8 p.m. ET on ABC.