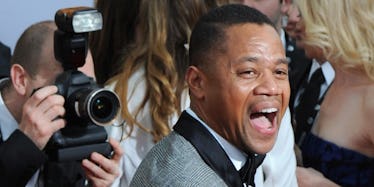 Cuba Gooding Jr. Dropped An 'American Horror Story' Hint And We Have Questions
Shutterstock
Cuba Gooding Jr. compliments "American Horror Story" the way your mom complimented you in high school: You knew she loved you, but you always left feeling vaguely insulted.
In a pre-Emmys interview with Vanity Fair on Saturday, the "AHS" season six, aka "My Roanoke Nightmare," star said of the show's first season,
If you watch those 13 episodes — it's like what 'The Twilight Zone' did with one episode.
Uh, OK. So… he didn't like it, then? Or — wait, no — it's a clue!
The Oscar winner continued,
This season, remember I said that… When you see this season, you'll realize how to interpret that 'Twilight Zone' idea to an entire other level. When your head goes 'boom' and you've got brains all over the wall, you're going to be like, 'Motherfucking Cuba Gooding Jr.' I wish I could tell you when it happens, but I can't.
Considering most of us yell, "Motherfucking Cuba Gooding Jr." any time literally anything, big or small, occurs, ol' Cub's claims seem pretty well-founded. That does sound like us.
Vanity Fair postulated the 48-year-old was hinting at a season with multiple chapters. This theory would make room for not only Roanoke, but also for the Charles Manson theme and perhaps a few of the other concepts visited in the 20-plus promos for season six.
Other than this vague promise our brains would explode and ruin our perfectly good walls, Cuba had no more information to share.
Citing his co-star André Holland, Cuba insisted,
I'm just trying to phrase this so I can keep myself safe… Because I don't want anybody get mad at me. Because they never give you information. When I go, 'Who's playing the real Matt?' They go, 'André' and I go, 'From 'The Knick?' Oh my god, I love that guy, I can't wait to see him.'
All right, fine. We'll leave you alone for now.
In the meantime…
TAISSA, COME BACK. THERE'S STILL TIME. TAISSAAAAAAAA!!!
Citations: Cuba Gooding Jr. Drops Cryptic Hint About American Horror Story (Refinery29)