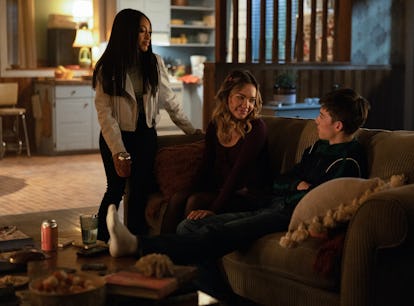 Cruel Summer Season 2 Hid A Season 1 Easter Egg In Its Final Episode
Finally, the two stories are connected.
Freeform
When Cruel Summer was renewed for Season 2, fans of the twisty mystery series were hit with a shocker: the new season would be completely separate from the first. That remained true for almost all of the show's trip to Chatham surrounding a murder on the night of Y2K, until one small object in the finale confirmed both seasons are indeed set within the same universe. You may have missed it, but there was an important Easter egg in the Cruel Summer Season 2 finale that specifically shouts out one of Season 1's main characters.
Cruel Summer fans had been on the hunt for any connections to Season 1 for the entirety of Season 2, but they came up short until the final episode. Then, about halfway through the Season 2 finale, the Easter egg viewers had been searching for finally appeared. In the August 2000 time period, Megan is about to leave her house when she runs into Brent. As she's grabbing her keys, the camera lingers on the book she's apparently been reading — Out of the Basement: The Kate Wallis Story. Yep, Kate from Season 1 is a successful author now, and turned her traumatic kidnapping into a best-seller.
The first season of Cruel Summer ended in 1995, which would mean Kate wrote the book sometime between then and 2000.
That novel is the only real, physical connection between the show's two seasons, but their endings also have a strong thematic connection. Spoiler alert: Don't read on if you haven't watched Cruel Summer Season 2's finale. Just like Jeannette betrayed Kate in the final scene of Season 1, Isabella also turned out to be the secret villain of Season 2. Although Brent went down for the murder of his brother, Megan wound up finding a tape of Luke just barely surviving on the lake shore, only for Isabella to drown him herself and then skip town. It seems like this is a pattern for the show — one of the main girlies was at fault all along, but managed to pin the crime on somebody else and get away with it.
Kate's book popping up in Chatham could mean there's potential for a big Cruel Summer crossover season at some point. Could Season 3 connect Skylin and Chatham even more, or will it introduce yet another whole new world? Fans will have to wait to see what's in store.