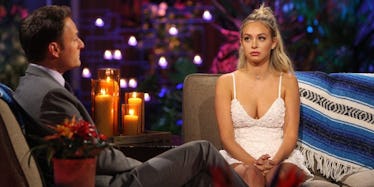 Corinne Opens Up About 'BIP' Shutdown In Emotional Interview: It Was "Beyond Scary"
ABC/Paul Hebert
I dream of a day in which Bachelor in Paradise never mentions Corinne Olympios or DeMario Jackson again, but today is not that day. Yep, despite the fact that the incident in question happened on literally the first day of filming, here were are in Episode 6 still talking about it. Tuesday night's episode featured Corinne's Bachelor in Paradise interview with Chris Harrison, and it was just as terrible as I suspected it'd be.
Corinne admitted that she was nervous for this interview — a rare emotion for her. Chris Harrison didn't beat around the bush — he dove right in and asked Corinne to go over the events of that first day.
"The first day unfortunately I don't remember much of. I definitely over-drank and I was on some medication that you're not suppose to drink on," Corinne admitted. "The combination of the two was not good."
Corinne elaborated that this medication was something she started taking after her season on The Bachelor, and didn't realize the affects mixing it with alcohol would have. She explained, "It can look like you're totally present and totally there, but your mind is not there."
Corinne says she woke up in bed the next day confused, but had no hard feelings toward DeMario. "There was know hard feelings against DeMario. We were cordial. It was just normal."
"I honestly don't feel like he did anything wrong," she responded when Chris asked her. "Everybody thought I was just having fun and being Corinne. There's no way that you guys could have known I was mentally checked out. I don't think it's anyone's fault, but it was an annoying, unfortunate situation."
She admitted that she was annoyed that DeMario went to the media. (He spoke to E! Online before the investigation had been concluded, and said, "My character has been assassinated.)
"It's just so annoying," Corinne said, saying she felt frustrated that DeMario went to the media with a statement before she even had the chance to speak with him. "I can't help but feel like maybe he thought that I thought that he did something to me."
"The media wants to paint you a certain way and you know you're just not," Corinne said.
I really just want people to know that I don't blame DeMario. I never said a bad word about DeMario. It's so heart-sinking to go through that," Corinne said of dealing with the media attention. "I'm not what you're thinking right now."
When asked what she wanted to say to DeMario, Corinne said, "I wouldn't want to tell him that listen, I respect you as a human, I'm sorry you had to go through this, I know what it feels like, because I had to do go through it too."
Chris Harrison thanked Corinne for coming into the studio to talk, and Corinne concluded by thanking everyone that supported her.
Last week, DeMario had his in-studio interview with Chris Harrison. DeMario, along with a few testimonials from cast members like Raven Gates, walked through the events of that first day of filming, which concluded with Corinne leading DeMario into the pool. The pool was the location where the alleged sexual misconduct transpired, though after reviewing tapes, Warner Bros. concluded no misconduct had taken place. DeMario said in his interview that everything seemed fine, and that he and Corinne spoke the next day on normal terms.
Back in June, filming was briefly suspended on Bachelor in Paradise due to an allegation of sexual misconduct between DeMario and Corinne. Rumors circulated that DeMario had allegedly taken advantage of Corinne when she was unable to consent. Warner Bros conducted an internal investigation of the incident, and released the following statement on June 20,
As we previously stated, we recently became aware of allegations regarding an incident on the set of Bachelor in Paradise in Mexico. We take all such allegations seriously. The safety, security and well-being of the cast and crew is our number one concern, and we suspended filming so that the allegations could be investigated immediately and thoroughly. Our internal investigation, conducted with the assistance of an outside law firm, has now been completed. Out of respect for the privacy interests of those involved, we do not intend to release the videotape of the incident. We can say, however, that the tape does not support any charge of misconduct by a cast member. Nor does the tape show, contrary to many press reports, that the safety of any cast member was ever in jeopardy. Production on this season of Bachelor in Paradise will be resuming, and we plan to implement certain changes to the show's policies and procedures to enhance and further ensure the safety and security of all participants.
Having concluded that no misconduct had transpired, the show resumed filming. However, Corinne's legal team had previously released a statement stating that Corinne was a "victim." She said,
I am a victim and have spent the last week trying to make sense of what happened on June 4. Although I have little memory of that night, something bad obviously took place, which I understand is why production on the show has now been suspended and a producer on the show has filed a complaint against the production. As a woman, this is my worst nightmare and it has now become my reality.
DeMario, on the other hand, has maintained that his character has been "assassinated" by these allegations. He said in his own statement,
It's unfortunate that my character and family name has been assassinated this past week with false claims and malicious allegations. I will be taking swift and appropriate legal action until my name is cleared and, per the advice of legal counsel, will be seeking all available remedies entitled to me under the laws.
So now that we've had these two one-on-one interviews, please, please tell me ABC is going to drop this now. That is my only wish.