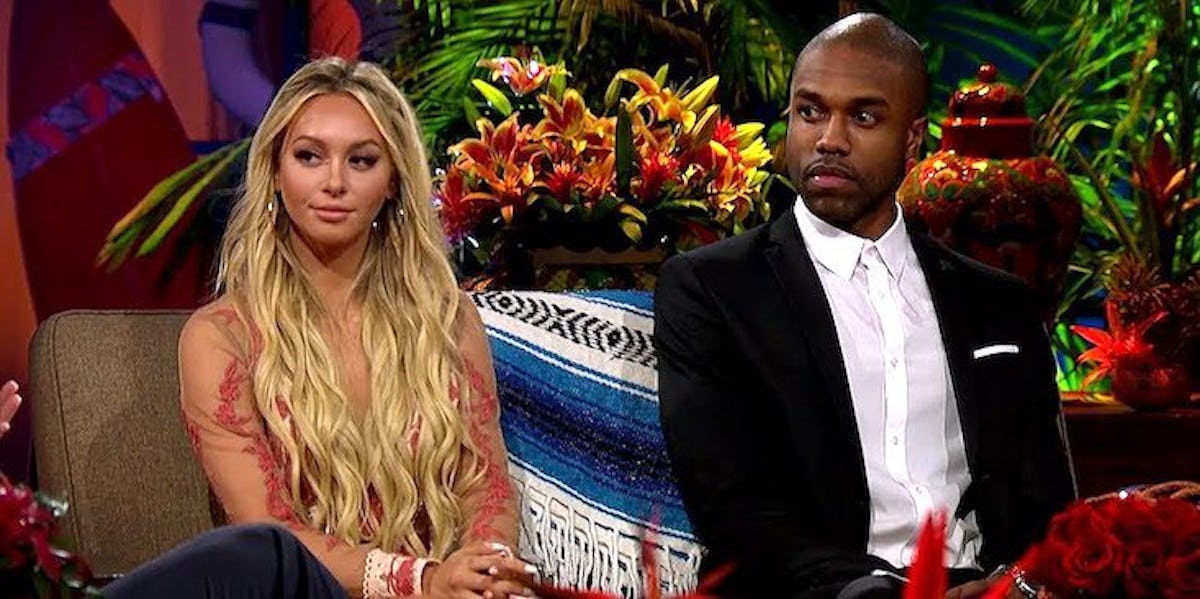 Corinne & DeMario Spotted Holding Hands At Disneyland & We're So Over Their Drama
ABC
The weird, why-is-this-happening romance that almost ruined summer this year is apparently still in full swing in fall. Bachelor Nation villains turned Paradise destroyers Corinne Olympios and DeMario Jackson look like they're still together despite that headline-grabbing pool scandal earlier this year. New pics from TMZ show Corinne Olympios and DeMario Jackson holding hands in Disneyland on Monday afternoon, so I guess all those potential lawsuits and allegations of character assassination are water under the bridge now.
The new pictures show Corinne Olymios and DeMario Jackson walking around Disneyland hand-in-hand. More pics in TMZ's slideshow show the two Bachelor in Paradise castoffs grinning on various rides together, and even shots of Jackson appearing to kiss and playfully bite Olympios' arm as she laughs. Yeah, they definitely look very flirty. This is actually the second time we've seen Corinne and DeMario spark romance rumors since making a splash on Bachelor in Paradise. Last month, photographers caught the two swapping kisses outside of a club in Los Angeles. Despite a messy hookup incident in the pool on the first day of production on Bachelor in Paradise (which brought up serious questions of consent and misconduct), Olympios and Jackson have since asserted that they are friends now and have said they do not blame one another nor the show's production for what happened.
Of course, immediately following the publicity blow-up when news of their alleged misconduct broke at the start of summer, the two reality stars weren't so buddy-buddy. Back in June, news first broke that Bachelor in Paradise would suspend production indefinitely to investigate allegations of misconduct brought up by a producer on the set, and then it quickly leaked that the incident causing the unprecedented suspension involved Corinne and DeMario. Following the announcement, both Corinne and DeMario released statements on the murky event. In her statement, Corinne referred to herself as a victim and said it was her worst nightmare become a reality:
I am a victim and have spent the last week trying to make sense of what happened on June 4. Although I have little memory of that night, something bad obviously took place, which I understand is why production on the show has now been suspended and a producer on the show has filed a complaint against the production. As a woman, this is my worst nightmare and it has now become my reality. As I pursue the details and facts surrounding that night and the immediate days after, I have retained a group of professionals to ensure that what happened on June 4 comes to light and I can continue my life, including hiring an attorney to obtain justice and seeking therapy to begin dealing with the physical and emotional trauma stemming from that evening.
Following that, DeMario issued his own statement asserting that the claims of misconduct leveled against him were false and that his character was being "assassinated":
It's unfortunate that my character and family name has been assassinated this past week with false claims and malicious allegations. I will be taking swift and appropriate legal action until my name is cleared and, per the advice of legal counsel, will be seeking all available remedies entitled to me under the laws.
After Warner Brothers' investigators concluded the claims of misconduct were unfounded, the network resumed production but DeMario and Corinne opted not to return to the series. In interviews following the investigation, including an on-screen reunion during the Bachelor in Paradise finale, both DeMario and Corinne have asserted they are now friends following the scandal. Judging from these Disneyland pics, they might be more than just friends.