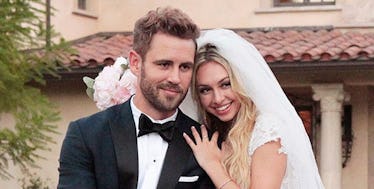 Corinne Reveals Whether Or Not She's Had Sex With 'Bachelor' Nick Viall
ABC
Even after getting kicked off "The Bachelor," Corinne Olympios is still the star of the show.
The 24-year-old has made headlines throughout Nick Viall's entire season, and Corinne is now arguably one of the most famous contestants post-show.
So naturally, there have been plenty of rumors circulating around the reality star because everyone wants to know what she's been up to since dating Nick.
E! News had the chance to catch up with Corinne about her current relationship with Nick Viall.
Since coming off the show, there have been rumors that Nick and Corinne were still seeing each other. She clarified,
No. I'm not engaged. Are you kidding me? This is getting so ridiculous... I'm getting fed up with all these rumors. Especially the rumors about Keith Berman.
Before you pop the name "Keith Berman" into Google to look up who that is, let me explain.
Keith claims to be one of Corinne's exes and even wrote a blog post about their past hookups.
He told readers,
Soooo all you girls are wondering is Corinne actually batshit crazy in real life? Well I had a little fling with Corinne two years ago and let me be the first to say she's got you all eating out of the palms of her hands… You think Corinne doesn't know exactly what she's doing?! HA! She's been playing this game her whole life, now she's just doing it on national TV.
The ex has been in touch with several media outlets, but Corinne decided to set the message straight with E! News.
She told them,
Keith Berman and I literally, literally are zero. Never were anything, never anything. He is the last person on the planet that I ever thought would have a media scandal. What? I'm so confused.
Oh, Keith.
Corinne continued,
These rumors with him have got to stop. The rumor about me seeing Nick post-show and having sex with Nick post-show: That is just stupid... Who comes up with this bullshit? The last time I saw [Nick] was the day he put me in the limo.
Wait, what? There have been rumors that Corinne slept with Nick post-show?!
Damn, I gotta catch up.
Welp, in case you had questions and doubts, I hope Corinne's interview set the record straight.
On top of that, she revealed she's working on a new clothing line that will include T-shirts and bathing suits.
She explained,
I'm totally focused on my clothing line. I'm super focused on getting it. I have July deadlines and I am just hustling.
GO, CORN, GO!
Corinne, thanks for saving this season of "The Bachelor" and for always keeping it real.
Nick Viall was a lucky man because without you, his TV ratings would be SHIT.
Just sayin'.
Citations: 'Bachelor' Corinne Talks About Rumors (E Online)