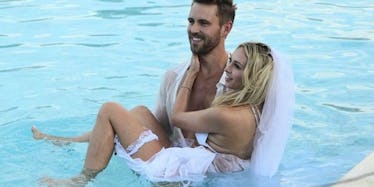 'Bachelor' Star Corinne Opens Up About Seeing Nick Viall After Their Breakup
ABC
Monday night, Corinne Olympios got plenty off her chest during "The Bachelor" "Women Tell All" episode.
Yes, the 24-year-old got into it with Taylor, of course, but she appeared to at least find a place of peace for herself by the time the 11 pm news came on ABC.
However, in speaking with ET's Lauren Zima during the taping for the "Women Tell All" episode, it appears Corinne is still somewhat struggling to deal with her breakup from Nick Viall.
Speaking on seeing "The Bachelor" for the first time since her tearful goodbye, Corinne Olympios said,
Seeing Nick tonight was definitely a little bit shocking. I mean, we had just had a really good hometown date… things went really well [and] I think we had one of the best ones, so [to] be sent home so abruptly after that was a little bit shocking, but I think I got my closure tonight. I'm good.
"Shocking," huh?
The 24-year-old continued,
I definitely said everything I wanted to say. I think it went really well and I'm very happy with the outcome, so no regrets, all good.
If you say so, Corinne.
Let's go back to Corinne's feud with Taylor, though, because it was arguably the most exciting thing that occurred during the three-hour "Bachelor" coverage Monday night.
During the "Women Tell All" episode taping, Corinne said to Taylor Nolan,
I'm not one to hold grudges. Yes, right now, I held a grudge to you, because I felt very, very attacked by you for no reason at all, and you know what, I just don't think it's fair the way that you spoke to me. You're going to have your opinion on it, and my heart was hurt from that conversation, and you told me that you wouldn't want to be my friend.
In response, the 23-year-old mental health counselor said,
I said I didn't necessarily think that you'd be someone that I would befriend outside of this, and I apologize for saying that, because I was in the wrong in saying that.
Whoa! Is that an apology?
Backstage, everyone's favorite blonde "Bachelor" villain reportedly continued to talk about Taylor. Corinne told ET,
My relationship with Taylor, you know, whatever, it's dead, it's done. There's no turning back right now. But, you know, I just feel it's very sad that she felt the need to play the victim here when she put a woman down on the show so early in the game, and didn't even get a chance to get to know me first, for no reason. I wouldn't put her down for no reason.
Corinne Olympios loves the spotlight, doesn't she?
Oh, and for all those who contend the 24-year-old was wasted during her time on "The Bachelor," well, she's got some news for you.
Speaking on those accusations, Corinne said,
I was not drunk on the show all the time. There were times where we were all a little bit, you know, tipsy. But I was never drunk on the show where I didn't know what I was doing, or anything like that. Like, come on, come on. My message to them, is that, 'Listen, I'm sorry that I did something to make you that upset, but I can't make the world happy.' I wish I could, but I can't.
Amen, girl.
Citations: EXCLUSIVE: 'The Bachelor's Corinne Olympios Got All the Closure She Needed at 'Women Tell All' (Entertainment Tonight)