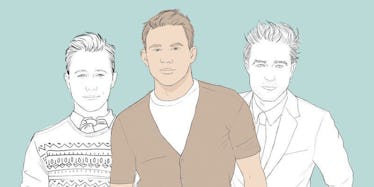 This Glorious Coloring Book Is Filled With All Your Sexy Celebrity Crushes
Coloring books became all the rage for young adults who are trying to de-stress, relax and just enjoy their goddamn lives.
From "Harry Potter" and "Star Wars" to content a little more NSFW -- there are millions of coloring books available for adults.
People just LOVE to color. Even if you have zero artistic ability, coloring is an enjoyable activity that comes paired with several health benefits.
One artist named Mel Elliott found a way to help you calm down by coloring in the faces and bodies of your favorite male celebrities.
Instead of thinking about your job, family issues or relationship struggles, refocus your attention on Channing Tatum's package or get lost in Jake Gyllenhaal's eyes.
Forget about those errands you have to run after work. Go grab some colored pencils, and play with Bradley Cooper's chest hair or even draw hearts around Harry Styles.
Ladies and gentlemen, I'd like to introduce you to your new best friend. Your life is about to change forever.
"Color Me Swooooon" is considered THE beefcake and heartthrob activity book for beginners and coloring experts.
It's filled with pages of the hottest celebrity men, like Ryan Gosling, for example.
Draw on these sexy boys with colored pencils, crayons or markers.
Hang them up in your room. Glue them to your ceiling.
Relive your favorite movie moments like the boom-box scene from "Say Anything..." with John Cusack.
Fall in love all over again with your favorite TV heartthrobs.
Draw on their clothes as you think about taking them off.
Nothing will ever be the same again.
REALLY, THOUGH.
THIS BOOK IS SO HOT, IT HURTS TO HOLD.
There are too many hunks to count, LIKE OVER 60 APPARENTLY.
Now, go grab a glass of water, and buy your own copy on Amazon or Mel's site. I promise you won't regret it.
Citations: COLOUR ME GOOD SWOOOOON colouring book (I Love Mel), Color Me Swoon: The Beefcake Activity Book for Good Color-Inners as well as Beginners (Amazon)