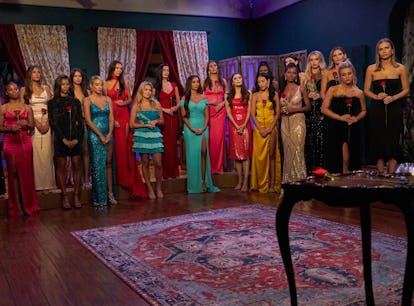 Bachelor Fans Are Convinced They Know Who The Next Bachelorette Is
The clues are stacking up.
ABC
If there's anything Bachelor Nation fans know, it's that Bachelor Nation never sleeps. Zach Shallcross' season of The Bachelor has only just begun, but that doesn't mean fans can't start speculating about the next season of The Bachelorette. In fact, the producers are likely behind the scenes planning for The Bachelorette Season 20 right now, and a lot of fans think they know who the lead will be. There are a bunch of clues from The Bachelor Season 27 that point to Christina Mandrell being the next Bachelorette.
You're probably thinking it's way too early to guess next season's Bachelorette. But the truth is, you can usually look at the current season of the Bachelor franchise to figure out the direction it's going in next. With the exception of Matt James, who hadn't appeared in any Bachelor franchise shows, all the recent leads in Bachelor Nation had been contestants in recent seasons. So it makes perfect sense that the producers would choose the next Bachelorette from the group of Bachelor Season 27 contestants. Among the Season 27 women, Christina stands out as a Bachelorette contender, and fans on Twitter have noticed. Here are all the clues that Christina will be the next Bachelorette.
She Got The First One-On-One
The first one-on-one date of any season is a big deal. Whoever gets that date is always someone to watch, as both a frontrunner for the lead and someone who might be important in Bachelor Nation moving forward. And Christina's one-on-one date with Zach was pretty much perfect. After they rode in a helicopter together, Zach introduced Christina to his family. She was able to show off how she embodies both a romantic love of adventure and the importance of family, both of which make for an ideal Bachelorette. At the end of the date, she shared with Zach that she has a daughter, which gave Zach some pause. But, it was still no surprise that he gave her a rose.
A History of Single Parent Leads
Speaking of Christina's daughter, 5-year-old Blakely May, she might be another clue that Christina is destined to be the Bachelorette. There's a long history of single parent leads in the Bachelor franchise, including Juan Pablo Galavis, Emily Maynard, and Jason Mesnick. Christina spoke beautifully about her love for her daughter during her one-on-one date with Zach, which made a lot of fans interested in seeing Blakley May make an appearance in the Bachelor franchise herself.
She Was The First Name Called At The First Rose Ceremony
Just like the first one-on-one date, the first name called at the first Rose Ceremony is also a big deal. It may not be the First Impression Rose (which went to Greer Blitzer), but it is another sign that someone is going to play an important role in Bachelor Nation.
Her Apology To Brianna
Things were actually looking a little rough for Christina in the Jan. 30 episode of The Bachelor after Brianna Thorbourne pointed out some hurtful comments she made. During Night 1, Christina told Brianna she hated her because her dress was pretty. It honestly seemed like Christina was joking, but Brianna was still hurt by it. This could have been a mark against Christina as Bachelorette, but she turned it into a positive by immediately taking the higher road and apologizing to Brianna. It was a thoughtful, mature move that totally has "future Bachelorette" written all over it.
Of course, the promo for the Feb. 6 episode of The Bachelor shows Christina getting a bit of a "villain edit" as she butts heads with more of the other women, so this assessment could change.
Her Built-In Fandom
Christina is already pretty famous, even outside of the Bachelor franchise. That's in part thanks to her famous family (her mom and aunts are the country stars the Mandrell Sisters) and in part thanks to her own success as a model and influencer. She already has a fanbase who would probably love to see her step into the lead role.
Her Last Name
Maybe it's because of her famous family or maybe it's because the producers just really want audiences to remember her name, but so far this season on The Bachelor, Christina is the only contestant whose full name appears in her chyron. Whatever the reason, the message from producers is clear: Christina is someone whose name audiences should know and remember.
Season 27 of The Bachelor airs Mondays at 8 p.m. ET on ABC.