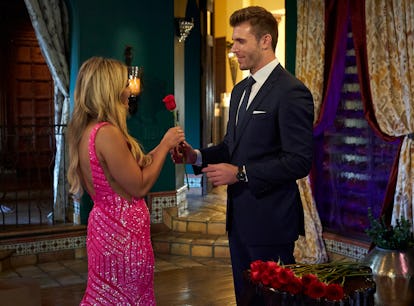 Zach Revealed His First Concert & Wow, It Makes So Much Sense
The Bachelor bonded with Christina Mandrell over their shared affection for the band.
ABC/Craig Sjodin
One-on-one dates on The Bachelor offer a special opportunity for the lead and a lucky contestant to get to know each other. They get dedicated time to discuss all the important relationship stuff, like their careers, their families, and all the little things that make up their personalities. During the Jan. 30 episode of The Bachelor, Zach Shallcross shared something very important about himself: the fact that he loves Nickelback. Let's just say, fans on Twitter were not surprised to learn this fun fact about him.
Zach had his first solo date of the season with Christina Mandrell, and he pulled out all the classic Bachelor Nation stops for it. After a helicopter ride, they jumped right into the deep end with a visit to Zach's childhood home, followed by serious dinner conversations. But all those high-stakes events weren't nearly as big a deal to fans as Zach's revelation about his music tastes.
At the very start of the date, Christina asked Zach what his first concert was, and when he told her it was Nickelback, she responded with pure shock. At first, it was unclear which emotion Christina's shock would morph into, but she quickly made it clear that a preference for Nickelback was actually something they share. She said she loves Nickelback, too, which definitely helped them to bond (whether it was an honest admission or a quick save to hide her surprise, she'll probably never tell).
Nickelback has become almost more of a meme than a band, thanks to years of people hating on them, or hiding their love for the band under a pile of sarcasm. Zach went into this season with a reputation as "the boring Bachelor," and so the consensus on Twitter seems to be that his love of Nickelback makes perfect sense.
Of course, there were some fans who don't have much snark to share and instead fully support Zach's Nickelback fandom.
In the end, it doesn't matter who your favorite band is, as long as you're able to share your favorite music with the people who are important to you. And since Zach and Christina have a shared love of Nickelback to always remind them of who they really are, they could be on their way to a bright future together.
Season 27 of The Bachelor airs Mondays at 8 p.m. ET on ABC.