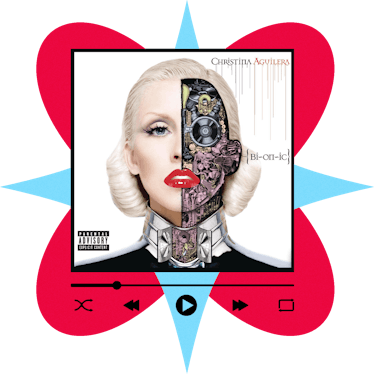 I'll Never Forgive Y'All For Sleeping On Christina Aguilera's Bionic
The album's hypnotic appeal still has me in a chokehold.
Lindsay Hattrick/Elite Daily
Before the pop-robotic likes of Ashley O and Lil Miquela, the world had a cyborg Christina Aguilera. Well, a half-cyborg, but she was iconic nonetheless. In case you missed it, Xtina's futuristic persona arrived as part of her 2010 album Bionic — her campiest and most criminally underrated album to date. Her AI character takes center stage on the album's cover art and boasts a dominatrix edge (think: LBDs, latex everything, a cherry-red lip, and an occasional ball-gag) that's just as sultry as the one-liners throughout the album. Aguilera experimented with electro-pop on Bionic, which was a complete 360 from her pop-meets-old-school-R&B-diva sounds on her previous albums Back to Basics and Stripped. This era should've been *huge* for her. Instead, it was a commercial flop.
It seemed listeners didn't know what to make of Aguilera's sound at the time. Electro-dance pop wasn't a new fad in town in the late 2000s, as evidenced by artists like Madonna, Kylie Minogue, and Lady Gaga creating hits in that category. But while the masses didn't click with Xtina on Bionic, baby, I certainly did. Every track on the album was so experimentally gaudy and braggadocious that my ears perked up with attention. Over the last eight years, several bops from the record have gone triple-platinum in my Apple Music library, and it's time to give those certain gems their flowers.
Let's take "Not Myself Tonight," the lead single from the album. Coasting on gritty production, this number saw her bondage-inspired character (which she croons is her "rare form") being rebellious in every way possible. As those vibrating synths rumble in the distance, Aguilera tells a naughty tale on how she's sexually renewed and liberated. The track is undeniably good; however, its spotlight was dimmed by critics who compared the music video to Lady Gaga. According to Aguilera, the video was a modern ode to Madonna's "Express Yourself" and even included scene-by-scene re-creations that clearly speak to Madonna's influence.
Bionic's most awing moments sit in the deeper cuts. On "Elastic Love," Aguilera infectiously purrs how her partner's love stretches infinitely, almost like a rubber band. Meanwhile, "Desnudate" takes a saucy, electronic dip into her past works "Nasty Naughty Boy" and "Dirrty," building a lustful fantasy of getting naked with her mystery beau. Xtina continues to explore her deepest desires on R&B-inspired slow jams like "Morning Dessert" and "Sex For Breakfast," which both serve as buttery reminders that she can sang.
When Aguilera told Billboard in 2012 that Bionic was "too ahead of its time," she was onto something. This album is lush with riveting material that just failed to break through the noise at the time. Also, her sound being compared to other pop stars turned off many listeners from giving Bionic a chance, and this feeds into pop culture's misguided tendency of pitting female stars against one another. Even with that, it's best to say Aguilera's flop era was low-key a moment.