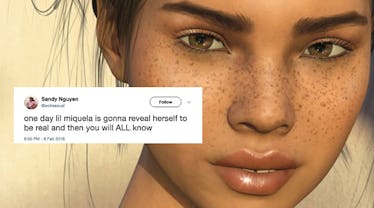 People Don't Think This Instagram Star Is A Real Person — But She Just Landed A Beauty Deal
Pat McGrath is known for picking the coolest women to represent her brand. Kim Kardashian West, NikkiTutorials, and Naomi Campbell are just some of the biggest #McGrathMuses. Now a new Instagram star is being added to the ranks, but she's not even human. Is Lil Miquela real, you ask? This social media influencer might be fictional, but her partnership with Pat McGrath is real as real gets.
At this point, we all know the power of social media influencers. Just look at Kylie Jenner, one of the most-followed Instagram users of all time. Jenner was able to build a makeup empire, thanks to her massive, cult-like following. Jenner stans buy her lip kits and wait with bated breath for each new post. Her most recent picture of her secretly-carried-and-delivered baby daughter Stormi became the most-liked picture in the history of Instagram (someone call the people over at the Guinness Book). Jenner single-handedly started a lip-plumping revolution, with people of all genders and ages rushing out to get fillers or, at the very least, lip pencils.
With a single whisper, social media influencers, specifically those in the beauty sphere, influence what our society finds beautiful, whether we like it or are even aware of it. Though all of their images are heavily edited, we buy the waist-training corset and the liquid lipstick because we believe what we see.
Now there's a new Instagram star on the rise, and she's showing just how fake the internet is, all while serving us beauty goals. Lil Miquela popped up on Instagram back in 2016, and since then, she's amassed over half a million followers on her account.
She looks like your typical millennial social media influencer, with her athleisure wear, bob and bang 'do, fleek-ed brows, and freckled fresh face. Yet there's one thing that sets Lil Miquela apart. She's obviously not real. She exists in the uncanny valley: that place where humanoid figures, like robots and avatars, look so human-like, yet we know they're just not human.
Just look at her next to this real human being.
She's definitely an avatar, like, for sure...right? TBH, there's something just so convincing about her aesthetic that really does leave the cyber world wondering, "Is Lil Miquela real?"
It's clear that the way in which she's digitally animated has grown leaps and bounds overtime. Her first posts were much more cartoon-y. Now, her images has grown more sophisticated and convincing.
Naturally, the internet has been working over time to get to the bottom of this beauty mystery.
Conspiracy theories on the girl behind the avatar have surfaced, mostly centering around two women in particular.
However, neither theory has been confirmed... as of yet.
After talking about her in numerous videos, YouTuber Shane Dawson finally had an actual interview with her.
So Lil Miquela is real, but most likely she's not the girl we're seeing on the 'gram. According to Paper Magazine, Lil Miquela herself has said, "I take the typical Instagram model, but twist it and flip it on its head." When you think about it, she's arguably just as real as every other beauty influencer... and possibly more so. All of our favorite influencers heavily edit their images, but most don't and will never admit it. At least Lil Miquela is up front about it. You never know what's real and what's not. That's how you have to approach all social media these days. Plus, she's verified on Instagram and Twitter, which is more real than I'll ever be.
On the heels of her new song release, Lil' Miquela is now partnering with Pat McGrath. The Instagram celeb has become the newest McGrath muse, and makeup artists and enthusiasts everywhere are... intrigued to say the least.
As this Twitter user points out, how can we be persuaded to use makeup that's not being shown on actual skin? Didn't our "no-editing, all truth tea" campaign lead to CVS's recent photoshop ban? I'm confused, but I guess, that is Lil Miquela's goal, after all.