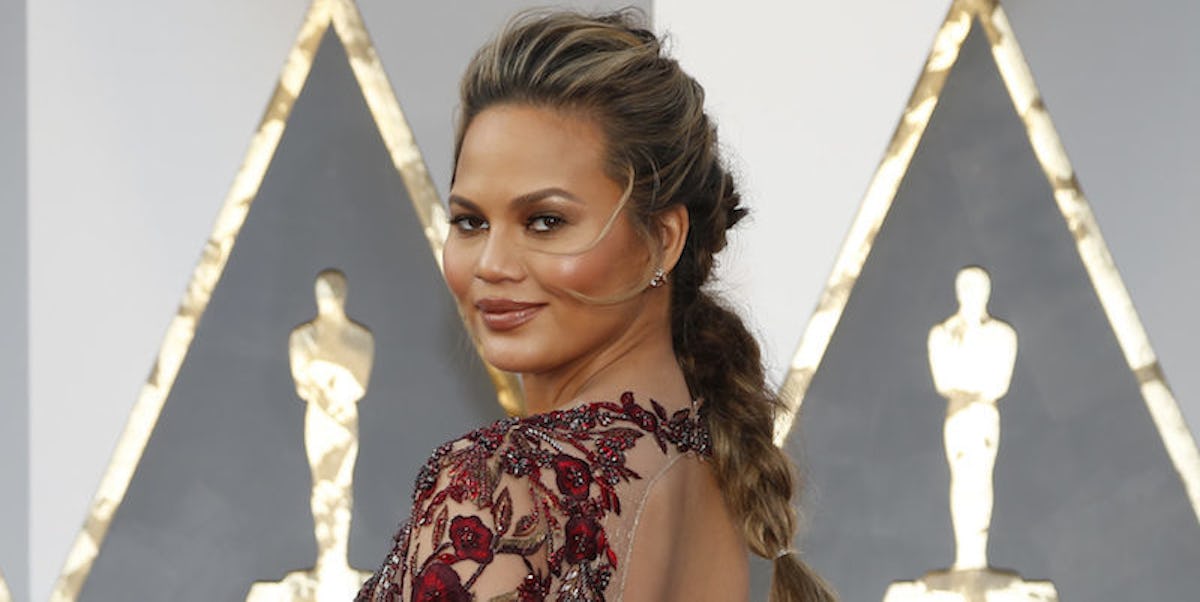 Chrissy Teigen Opens Up About Her Life And Diet Changes Since Having Baby Luna
REUTERS
Chrissy Teigen may be a supermom, but that doesn't stop her from getting real about her struggles, too. And isn't that why we all love her? Despite taking virtual punches from online haters, Teigen and hubby John Legend manage to take it all in stride and enjoy their new parenthood.
Chrissy Teigen shared with Entertainment Tonight on Tuesday,
We're so happy. It's been really exciting and fun, and every day is so different, and seeing all her little changes is so cute.
Since giving birth to baby Luna last month, the 30-year-old supermodel admitted she still has some baby weight to lose. Because, duh. That's a natural part of carrying another human inside of you. Part of being a new mom also means re-arranging your entire day as well.
Teigen explained,
The feeding schedule surprised me a lot. If you kind of do the math, you're kind of breastfeeding for 10 hours a day total. It's very loving and sweet, but it's not easy. It's hard to work your entire day around getting her the nourishment she needs because they are just little animals.
Being a full-time mom hasn't stopped Teigen from jumping right back into the kitchen, where she said being up and moving around relaxes her.
Now, Teigen's starting to turn her attention back to getting her pre-baby body.
But she's not in any rush to get there, saying,
I'm only four weeks out from birth, so I still have a couple more weeks before I can work out -- which is fine with me. I love the feeling of working out, but I've never been a gym rat, ever, so now, it's all about taking in what I can if it's good for the baby, because it all translates to her in a way.
Her diet has also been an afterthought.
She said,
You just don't think about food as much. So it's not that you're not hungry, or that you want to diet -- food just doesn't cross your mind. It's like whereas before it was number one on my list, now Luna's up there, and John and keeping the dogs happy, because they get jealous. And then you're like, 'Oh, I haven't eaten in seven hours, this is horrible.'
Hopefully, Chrissy Teigen finds a little me-time in her hectic new schedule. If her Instagram is any indicator, she and John Legend are doing just fine as proud new parents.
Citations: EXCLUSIVE: Chrissy Teigen Gushes About Daughter Luna: 'There Is No Feeling Like That First Smile' (Entertainment Tonight)