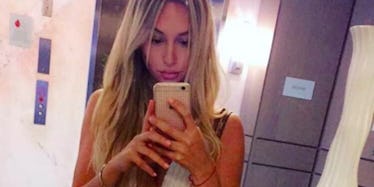 Chris Harrison Says Wild 'Bachelor' Contestant Corinne Is His 'Spirit Animal'
Instagram/Corinne Olympios
Corinne, Corinne, Corinne.
The newest villain of Bachelor Nation spread her wings (re: boobs) on Monday night, proving to the world she is a) not here to make friends and b) here to win.
During a visit to "The Ellen DeGeneres Show" on Friday, "Bachelor" host Chris Harrison told Ellen,
To a certain degree I feel like [Corinne's] my spirit animal… I mean, don't you want her life? … She runs a multi-million dollar company, apparently. She has a nanny. I don't even know what that looks like, but I want one.
The 24-year-old serial date-interrupter flashed the photographer on a group date last episode, where contestants posed with Bachelor Nick Viall for wedding-themed pics.
When Ellen suggested it was Nick's responsibility as the Bachelor and a four-time member of BN to protect Corinne from exploiting herself, Chris noted,
He probably could have helped her a little bit but, at the same time, there's always that gray area of how much do, you know, you as a producer or even you as the Bachelor get involved? Because you really want to see how this person acts. You want to see them. If this is how she really behaves, then that's red flags, maybe.
Perhaps if producers had stuck with their original rumored choice for season 21's star, Luke Pell, things would be running more smoothly.
Unfortunately, Chris alluded to ulterior motives that kept Luke from returning to find love.
He said,
Luke was definitely a part of that conversation, but at the end of the day, you know, it's all about sincerity. And when you're talking to these potential candidates of being 'The Bachelor' or 'The Bachelorette' and their first questions are about money or potential job opportunities or music careers and they're not asking about dates, women, love and these things… We really need someone that is actually sincere… and Nick was a very sincere guy.
Eh. The jury's still out on how sincere Nick really is. As of now he seems like he's here to cup areola and take names.
Citations: Chris Harrison Says He Had a 'Come to Jesus' Meeting With Nick Viall, Spills 'Bachelor' Details -- Watch! (Entertainment Tonight)