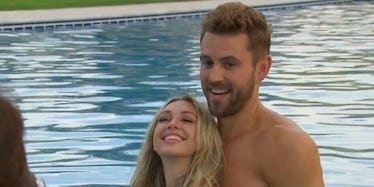 Corinne From 'The Bachelor' Has Always Been Crazy, According To Her HS Yearbook
ABC
Nick Viall's season of "The Bachelor" is in full swing, and while there are quite a few early favorites who could capture Nick's heart, there's really only one woman worth talking about after two episodes: Corinne Olympios.
See, we knew Corinne was a bit, well, crazy from the jump.
On the premiere episode of this season of "The Bachelor," Corinne showed us her nanny, told us about her ridiculously successful business and claimed to have a platinum vajeen.
Seriously.
Monday night, in episode two of this season of "The Bachelor," Corinne went from a little crazy to batshit nuts.
This season's "Chad," if you will, went topless in the pool and pressed her bare breast against Nick Viall. Naturally, the rest of the contestants were speechless.
Like, helllloooooo?!?!?!?
Well, thanks to the good folks at Barstool Sports, it appears Corinne has always been crazy. Without further ado, I give you Corinne Olympios' high school yearbook photo.
I know.
How savage/crazy does someone have to be to quote Dr. Seuss, Weezy and Paris Hilton in a high school yearbook?
The quote Corinne listed from Dr. Seuss reads,
Being crazy isn't enough.
The quote she listed from Weezy reads,
You can love me or hate me, I swear it won't make me or break me.
Finally, the quote from Paris Hilton reads,
The only rule is don't be boring and dress cute wherever you go. Life is to short to blend in.
"To short"? Spellcheck, anyone?
Corinne, you crazy savage! This woman is absolutely amazing!
Speaking to the cameras after her sexual photo shoot with Nick Viall, "The Bachelor" contestant said,
Nick and I do have a lot of sexual chemistry, there definitely was another spark in that pool… him holding my bare bosoms.
She added,
I didn't just go into this photo shoot with no clothes, I actually was daring enough to have clothes and take them off. I'm definitely gonna win that extra time with Nick today.
Give her the rose! Give her all the roses, Nick!
Citations: Barstool Sports (Twitter)