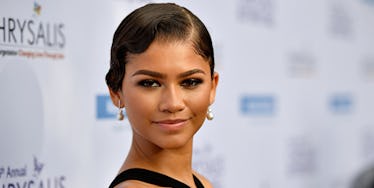 Zendaya Discusses How To Make A Power Move At Work In First 'Vogue' Cover Story
Getty Images
Zendaya just snagged her first ever Vogue cover and the success story she shares about snagging her Disney job is about as beautiful as the cover photo itself.
Although her red carpet slayage, major movie deals, and clothing line might cloud this fact, Zendaya actually started as a Disney star and is still working with the company as the star of the series, K.C. Undercover.
In the Vogue cover story, Zendaya talks about her journey to major stardom, and how she graduated from a co-star on the now cancelled show, "Shake It Up," to a complete boss girl business mogul.
She told the magazine about holding no punches when it came to telling Disney exactly how she planned to do business, saying,
I got in a room with the heads of Disney Channel and I was like, "The title is whack. That's gonna change."
Zendaya also had bigger plans than just playing the show's star character, K. C. Cooper. Instead, she requested that she be made producer of the show and that the series center around an African-American family.
Zendaya Also Asked For There To Be No Cheesy Stereotypes For Her Female Character.
The actress recalled,
I wanted to make sure that she wasn't good at singing or acting or dancing. That she wasn't artistically inclined. I didn't want them to all of a sudden be like, 'Oh, yeah, and then she sings this episode!' No. She can't dance; she can't sing. She can't do that stuff. There are other things that a girl can be. I want her to be martial arts–trained. I want her to be able to do everything that a guy can do. I want her to be just as smart as everybody else. I want her to be a brainiac. I want her to be able to think on her feet. But I also want her to be socially awkward, not a cool kid. I want her to be normal with an extraordinary life.
Her commitment to an all-inclusive show takes socialized gender norms out of the equation obviously went over with the network; the show is now in its second season.
Zendaya Is An Example Of What It Means For A Woman To Know Her Power And Use It
In a world where women routinely experience sexism on the job in areas like pay, harassment, and promotions, Zendaya's reasonably firm stance with Disney is the Hollywood example of how prosperous women can be when they decide their own worth and operate in it — as opposed to letting others decide it for them.
This is especially a point of inspiration for women of color, who sit at the intersection of discrimination due to holding two marginalized identities.
The real feminist lesson here: Don't let fear prevent you from asking for you want in life, according to what you know you bring to the table.
Because of Zendaya's bravery and business savvy, little girls of color who don't get nearly as much representation on mainstream television can watch K.C. Undercover, and not only enjoy a character they seem themselves in, but also see a teenager who has talents outside of those traditionally ascribed to women.
That Disney move has also undoubtedly opened up additional doors for Zendaya — like her role in the upcoming Spiderman-Man: Homecoming film, which will make her one of the few black actors who have been able to join the series.
Kudos to Zendaya for using her power to secure her coins and diversify the images in television and film.